This column is intended to advise you about cultural events, news and happenings
in France or France-related events taking place in the United States
between now and the publication of our next issue.
In France. . .
o The French transport workers' . . . strike, ending on November 23, caused chaos for commuters and travelers. Spurred on by President Sarkozy's determination to reform the pension system serving rail and other public employees, the strike had been expected to spread to teachers, judges and many other organized workers. There was a one-day strike by civil servants on Tuesday, and Thursday saw a march by students protesting a restructuring of universities with private funding. Polls taken to gauge public sentiment showed that President Sarkozy, the Socialist Mayor of Paris, and the union workers all lost favor with their approval ratings dropping. Only time will tell how this all turns out.
o President Sarkozy.. . gave a speech in Beijing on November 27th urging China to join France in setting an example for the world to fight global warming and to sign the new pact intended to succeed the Kyoto Protocol. A UN conference on climate change is scheduled for early December in Bali. The President mentioned that France has employed a 'decarbonized' production style that has made France the European country with the lowest emissions of carbon dioxide. The day before his speech, France and China signed a statement establishing a partnership between the two countries in response to climate change.
o National No Sarko Day...Tours Sociologist, Pierre Bitoun, said he is so sick of the presidential omnipresence, that he declared November 30 'National No Sarko Day'. This was not a political scheme as M. Bitoun is neither for or against the President. His organization of 64 journalists (Rassemblement Pour la Démocratie à la Television - the RDT) is just hoping for pluralism in the media and more time and space for others, and they feel that a cult is being built up around the President. He was quoted as saying, "A media-fueled personality cult is a dangerous thing for democracy. There is now so much Sarkozy that no one else gets a look in." [Editor: Since our first three items have mentioned the President, perhaps we should respect M. Bitoun's request and not mention you-know-who again in this newsletter.]
o The World Health Organization...ranks 190 countries on their health care systems and the top five are France, Italy, San Marino, Andorra and Malta. The life expectancy rankings of the WHO put the French third right behind Japan (No. 1) and Australia (No. 2).
o Shakespeare & Company . . . Paris' English-language bookstore, will host Iranian-American author, Nahid Rachlin, on February 4, 2008 At 7 PM. The bookstore is located at 37, rue de la Bûcherie in the Latin Quarter (telephone for information: 01.43.25.40.93). Ms Rachlin will read from her memoir, PERSIAN GIRLS, take questions, and have a book signing. Her book is a story of ambition, oppression, hope, heartache and sisterhood and traces the author's coming of age in Iran under the late Shah, her difficult family life, the girls' devouring of forbidden books, their secret romances and her narrow escape from an arranged marriage. Nahid Rachlin is an award-winning author of four critically-acclaimed novels, a story collection and this memoir which was selected by Christopher Merrill as one the four best books of 2006. Publishers Weekly calls it a "lyrical and disturbing memoir" that "gives American readers rare insight in Iranians' ambivalence toward the United States, the desire for American freedom clashing with resentment of American hegemony." Ms Rachlin currently teaches at The New School University in New York City. Visit her web site at: http://www.nahidrachlin.com/ Ms Rachlin also plans to be in PARIS from July 7-11, 2008 teaching a Fiction Workshop at the Paris Summer Writers Workshop. More details will follow on her web site.
o Spend a week in the south of France in 2008. . . learning or practicing your French through cooking classes, art lessons, and participating in interesting day trips to markets, olive oil mills and such places as St Rémy de Provence, Arles and Aix-en-Provence. A French language teacher from Australia will be your guide. Accommodations will be provided to allow each participant or couple to have their own room. Small group tours are now being planned for the spring and autumn of 2008. To be added to an email list for detailed information as it becomes available, contact Catherine Dignam at cdignam@bigpond.net.au.
o Christmas celebration in Provence . . . Château de Clapier, a wine estate that offers professionally-taught cooking classes, is inviting you to their Noël de Clapier on Saturday, December 8 at 8 PM at le Relais du Grand Logis in Mirabeau. In partnership with Caroline Miquel, the chef at nearby le Marmiton d'Itav, Château de Clapier proprietor and vintner Thomas Montagne will offer the traditional 13 desserts of Noël, tapas and tartines to celebrate the holiday, all accompanied by the fine wines of Château de Clapier. This epicurean soirée is 45 euros per person and includes an apéritif, the food and wine, and tastings of the newly released wines. For reservations and more information contact: chateau-de-clapier@wanadoo.fr by email, or phone from outside France 33.4.90.77.01.03. Please tell them you heard about this event from FRANCE On Your Own!
o Cristallin Château for Rent. . . Cristallin is a charming French château available for rent at a 75% discounted rate. It has eight bedrooms, two salons, a dining room, kitchen, one shower room, one shower and bathroom, three WCs, fireplace and central heating on one acre of parkland. Located in Western France, you can enjoy Christmas shopping, Christmas markets nearby and the Puy de Fou Adventure theme park with its annual Christmas spectacle ~ Symphonie de Bethléem ~ a 75-minute show depicting Bethlehem on the eve of the first Christmas. The weekly rental price is £495 for the weeks of 1 – 8 December, 8 – 14 December, and 16 – 22 December 2007. This lovely château is hidden away behind stone walls and magnificent iron gates and comfortably accommodates 16 people. It is situated in the Vendée, 40 minutes from Niort (TGV - 2 hours from Paris) and the airport at La Rochelle. Contact Amanda at chateau.cristallin@hotmail.com or by phone at 33.8.77.98.66.16 from outside France, and 08.77.98.66.16 from within France.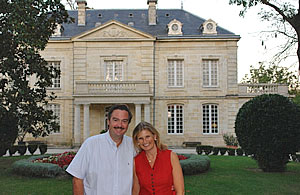 o Fabulous Wine Newsletter. . . The Bordeaux Wine Experience is a fine email newsletter (free to subscribers) that gives wonderful insight into the wines, happenings and events in Bordeaux wine country. It is written by Ronald Rens, a certified wine expert, who attends all the major regional wine events and writes so eloquently about them. He and his wife, Margaret, also a certified wine expert, also host guests at their gorgeous and comfortable château in Bordeaux ~ a place to unwind, relax and enjoy France's most distinguished wine region. To subscribe to the newsletter, simply send an email to info@bxwinex.com and ask to be put on their mailing list. Please mention that FRANCE On Your Own sent you! And, if you are ready to visit Bordeaux and experience château life, do click here to visit Château Coulon Laurensac on the au Château web site.

o France. . . had its first case of rabies in a domestic animal since it declared itself 'rabies free' in the year 2001. A cat that died November 10th was likely infected in its owner's attic by a bat, as it was primarily an indoor pet and had never traveled outside of France. The cat was owned by a pharmacist in Fontenay-le-Comte in the Vendée, and it had bitten the vet who treated it. Authorities are monitoring the people who had contact with the cat in the weeks before it died.
o Underway. . . is restoration of the grotto in the English garden of Marie-Antoinette near the Petit Trianon at Versailles. The project is being undertaken to draw more visitors to the Petit Trianon (Domaine de Marie-Antoinette). It is believed that the grotto was Marie's favorite place to read and, supposedly, engage in romantic liaisons.
o HELP IN FRANCE. . . is an assistance service for English-speaking people buying in France, moving to France or living in France. Based in the southwest of France, Nadège and Anthony can help you before, during and after moving with assistance for finding a house, settling down and solving any difficulties you may face from arrival onwards. A little bilingual assistance can make all the difference. Contact them by Phone or Fax at 33.5.61.49.15.05 from outside France; from inside France substitute the 33 with a 0. Send an email to help.in.france@orange.fr or visit their web site at http://www.help-in-france.co.uk.
o LE BAL DE PARIS. . . Saturday, December 8, 2007, at the Automobile Club, Place de Concorde, 8th arrondissement. Presenting the Best of Ten Years of Ball Photos and Best Television Programs. Fashion Show by Duchess Rixa von Oldenburg, Fashion TV, Tokyo. For information email lebaldeparis@wanadoo.fr or visit their web site at www.marquiseevents.com and go to 'Actualité / News".

In the US. . .
o The works of Delacroix, Cézanne and Matisse . . . will be used to entice visitors to look for subtle differences among different versions of the same image at the Walters Art Museum, Baltimore, in an exhibit entitled Déjà Vu? Revealing Repetition in French Masterpieces through January 1, 2008. www.thewaters.org.
o The Denver Art Museum . . .will host Artisans & Kings: Selected Treasures from the Louvre featuring fine and decorative art from the collections of Kings Louis XIV, XV and XVI. On display will be Sèvres porcelains and Gobelins tapestries, as well as oil paintings and drawings by Titian, Velázquez and Nicolas Poussin. Through January 6, 2008. www.denverartmuseum.org.
o Columbus, Ohio. . . is the location of an exhibit entitled In Monet's Garden: The Lure of Giverny at the Columbus Museum of Art through January 20, 2008. The show explores the appeal of Giverny and includes a dozen of the artist's paintings as well as some by American Impressionists and contemporary American artists. www.inmonetsgarden.com.
o Come to Boston . . .to see over 140 works of fine and decorative art, much of which has never been seen outside of France, in an exhibit entitled Symbols of Power: Napoleon and the Art of the Empire Style, 1800-1815. Sculpture, scenic wallpapers and much more will illustrate the neoclassical aesthetic designed to link Napoleon's empire with the Greek, Egyptian and Roman civilizations. Through January 27, 2008 at the Museum of Fine Arts. www.mfa.org
o The Art of Eugène Boudin . . . will be exhibited in Richmond, Virginia, through January 27, 2008 at the Virginia Museum of Fine Arts. Entitled The First Impressionist: Eugène Boudin, this important show will feature 45 of his paintings and drawings, primarily of his native Normandy. It is believed Monet learned of plein air painting from Boudin. www.vmfa.state.va.us.
o Fragonard in Williamstown, Massachusetts . . . A leading 18th century painter, Fragonard specialized in idyllic settings adorned by young men and women in elegant attire. Consuming Passion: Fragonard's Allegories of Love is the title of an exhibit at the Sterling and Francine Clark Art Institute in Williamstown through January 21, 2008. www.clarkart.edu.
o Le Petit Trianon . . . in conjunction with the restoration now taking place in France at the Petit Trianon, the Legion of Honor in San Francisco is featuring Marie-Antoinette and the Petit Trianon with a collection of 88 works of art from the small château on the grounds of Versailles as well as other artistic depictions of the estate. The history of the Petit Trianon before coming to Marie-Antoinette as a wedding gift, relates how it was constructed for Madame de Pompadour, was occupied by Madame du Barry until her death, finally becoming the focus of Marie-Antoinette who made it a richly decorated and beautifully landscaped getaway for herself. Through February 1, 2008. www.thinker.org.
o New York's Yeshiva University Museum . . . will host an exhibit examining the historic political drama surrounding army officer Alfred Dreyfus entitled Alfred Dreyfus: The Fight for Justice. On display will be some of his personal belongings, photos, posters and other items from the Dreyfus family archives, including letters he wrote to his family during the four years of his solitary confinement on Devil's Island. Through February 17, 2008. www.yumuseum.org.


Paris' Parc de Bagatelle ~ A 'Trifling Folly'
by Arthur Gillette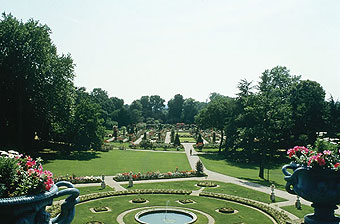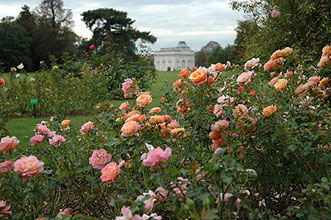 Garden of International Rose Competition and Rose Gardens at Parc de Bagatelle
Where in Paris can you find, on the same public plot of land
a garden in the strict 18th century à la française style juxtaposed with others of a much more relaxed à l'anglaise cast, not to forget one devoted to no less than 1,200 varieties of rose where an annual International Rose Competition has taken place since 1907?
a bevy of strutting peacocks not intimidated by even the summer Sunday crowds that throng the place and whose cries sound like the shrieks of tortured cats?
buildings ranging from an 18th century folie mansion built in two months on a royal bet, and an orangerie (winter greenhouse for plants placed outdoors during other seasons) that hosts each spring a Chopin Festival, to a Chinese mini-pagoda?
and stretches of water including Black Swan Lake, Magellan Geese Basin, Japanese Mirror Pond and a nymphaeum featuring water lilies and a dark grotto?
The answer is the Parc de Bagatelle located in the northwest sector of the Bois de Boulogne.
Strutting Peacocks in Parc de Bagatelle

continued on page 3