Sunshine lights up Languedoc-Roussillon over 300 days each year. It is a region of France that always brings the visitor new and authentic experiences and encourages them to return for more. This second installment of our two-part feature on the region will visit the Hérault and Roussillon, both unique and fascinating départements worth your time to explore.

Hérault

Our first stop in this issue will be the Hérault (34) and its principal city, Montpellier. Sharing the beautiful Natural Regional Parc of Haut-Languedoc with the département of the Aude, the Hérault is criss-crossed with sign-posted footpaths for country walkers. Fields of purple heather grace the Espinouse hills and the green slopes are dotted with small herds of mouflons (wild sheep) and an occasional deer. It takes about an hour to climb Mont Caroux ~ from its peak at 1050 meters you can look south over the plains as far as the Pyrénées. Every so often you will come upon small waterfalls tumbling over rocks down the hillsides; water from Montagne Noire feeds the Canal du Midi. You can take a car up to Montagne Noire and then down to the town of Minerve along the Cesse Valley where there are tunnels and caves to visit. One cave, Devèze, lets you admire its 'room of jewels'.

The Hérault boasts more golf courses than any of the other four départements of Languedoc-Roussillon ~ at least eight, and perhaps more. Golf is becoming more and more popular in France, so golfers can usually find a course to their liking almost anywhere in the country. Two fascinating natural phenomena are the Moureze and Navacelles amphitheatres ~ high 'stages' of rock surrounded by land worn away by rivers. The Cirque de Navacelles was formed as the Vis River circled the rocks, digging deeper and deeper until it finally disappeared into the ground. Today, the dry riverbed is green with grass, a little village exists and it has become a feature photo in many guidebooks. It is on the D986 route north from Montpellier to Ganges, near the Grottes des Demoiselles, an interesting grotto visited by funiculaire, then the D25 westward toward Gorniés and Madières. From there go north on the D48 to the D158 direction Blandas. This is not an easy drive nor for the faint of heart, but the spectacle of the Cirque and the Gorge de la Vis is your reward for enduring the winding roads and rugged terrain.

For travelers who are less inclined to trek through the countryside and wilderness, the Hérault offers more cosmopolitan spots to visit. There is Béziers, the regional wine capital with a history dating back to the Romans. See the excavations at Oppidum d'Ensérune about ten kilometers out of the city, some of which are open to public visits. The Canal du Midi passes through the southern part of Béziers, the birthplace of its 17th century designer, engineer Pierre-Paul Riquet. The smaller cities of Clermont-l'Hérault and Pézenas along the N9 are also worth visiting. Clermont has a Wednesday market and a medieval fortress church; Pézenas has a 16th century vieille ville, very interesting architecture throughout town and a Saturday market. Our walk along the breakwater at Valras-Plage was a peaceful and relaxing way to spend some time in this beach front community. Another beach town is Cap d'Agde, Languedoc's most popular seaside resort. A combination of beautiful beaches and a naturist community attracts huge numbers of tourists to Cap d'Agde in season.

Glorious Montpellier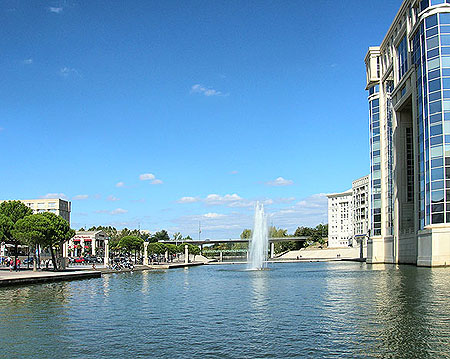 Montpellier's River Lez and l'Hôtel de la Région
Montpellier, however, is the urban jewel of the Hérault and is truly worth a visit. It became involved in the spice trade with the Middle East in the 10th century, and has always had significant Arab and Jewish communities. Today, this charming city is a tasteful blend of modern and traditional architecture and an intellectual center with the oldest medical college in Europe, established before the year 1000. The present-day university was founded in 1289 incorporating the medical school. Montpellier can also be proud of another first, Jardin des Plantes, the first botanical garden in France dating back to 1593 and located just across boulevard Henri IV from the Faculté de Médecine and the Cathédrale de St-Pierre.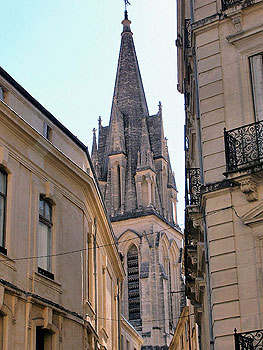 The city is still fiercely Protestant due to an historical lack of political clout with and hostility toward the French culture and religion in the north. The city's Renaissance architecture came about following much destruction in Montpellier in the early 1600s by French troops and then by Louis XIII who personally appeared in the city to put down the heretics. Still viewed as a center of knowledge and culture, modern-day Montpellier also shows signs of prosperity exemplified by its ambitious modern building programs and an abundance of rather expensive shops. The university has a population of over 60,000 students, which accounts for nearly a quarter of the population of Montpellier being under 25 years of age. Lots of cafés and lively activities are a result of this demographic.
Most memorable for us is Montpellier's diversity of fine architectural styles. From the 17th century aqueduct bringing water from St-Clément as well as the seventeenth, eighteenth and nineteenth century residences and the 18th century water tower (Château d'Eau), to Spaniard Ricardo Bofill's (also Bofil) Antigone, it all takes first time visitors by surprise. And, as we discovered, returning visitors remain in awe of the city's beautiful and well-maintained architectural gems. Like nothing else in France, Antigone's complex of residences, offices, commercial spaces and restaurants, with the stunning Hôtel de la Région prominently sited across the narrow Lez River, is a delight for the senses. It is modern yet classical and creates a lasting impression with all who have the pleasure to see it for themselves. One writer called Antigone 'neo-neo-classical' while another said that it should put all the other modern architecture of France 'to shame'. We must agree that it is the best we've seen.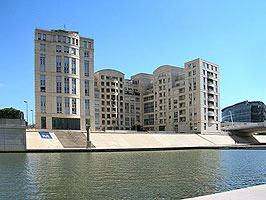 Montpellier's River Lez and Antigone
Not far from l'Antigone and the adjacent la Polygone enclosed shopping area, is the more traditional and very popular marble place de la Comédie, known as l'Oeuf – the egg. Its centerpiece is the stunning 19th century Opéra and the Fountain of the Three Graces. Efforts to make Montpellier a friendly city are evident. The automobile has been all but banished from the city center, while underground parking is available beneath the place de la Comédie. Pedestrians and those who like to sit at the numerous outdoor cafés are quite happy with the fact that automobile fumes are absent from the air they breathe. We spent some time at place de la Comédie during this visit, enjoying lunch at an outdoor table so we could watch the activities of the bustling pedestrian population. Student groups were performing pantomimes, trying to involve passersby, some of whom found it amusing and others who did not! A lone adult musician sat nearby playing lovely music to dine by, and we were happy to make a contribution to show our appreciation for his talent.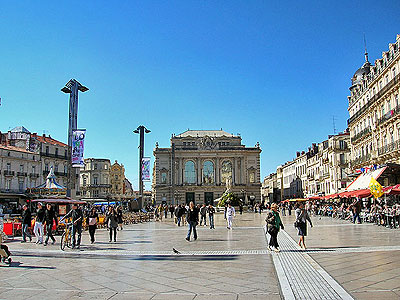 place de la Comédie
The 18th century Promenade de Peyrou is another Montpellier point of interest to experience. A beautiful water tower (if a water tower can be described this way), the Château d'Eau, is a landmark receiving its water from a grand Roman-style aqueduct ~ Aqueduc St-Clément ~ constructed in the eighteenth century. If you stand in the archway of Louis XIV's Arc de Triomphe on rue Foch, you will first notice an equestrian statue of the Sun King in the center of the Peyrou and the Château d'Eau at the end of your line of sight. (The Château d'Eau is an historic monument, constructed in 1768 in an hexagonal shape and decorated with Corinthian columns.) If you turn around from this same vantage point and look up rue Foch, you will see a street lined in splendid 17th-19th century apartments and mansions in French Renaissance style with very ornate ornamental iron balconies, slate mansard roofs, and occasional Baroque detailing.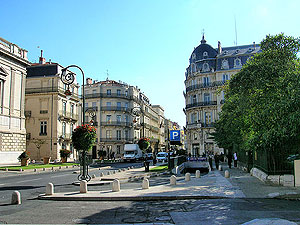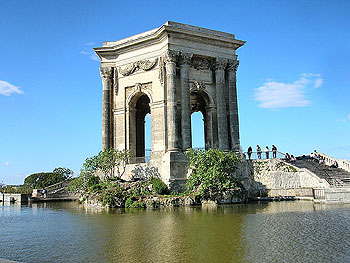 Rue Foch Château d'Eau
Montpellier offers at least seven museums to capture almost anyone's interests. The Musée des Beaux-Arts (also known as the Musée Fabre) was a favorite of Van Gogh. A few steps from the place de la Comédie, the museum's collection of French painters, most notably Delacroix, Manet, Courbet, Morisot, Delaunay, Dufy, Matisse, Degas and Desnoyer, is very impressive. There is also Lou Fougau Mont-Pelierenc on place Pétrarque displaying traditional arts and crafts (by appointment), Musée Sabatier d'Espeyran, a beautifully furnished private house (closed on Mondays), Musée de la Société Archéologique on rue Trésories de France (by appointment) and several others. All in all, a visit to the stylish and interesting city of Montpellier will provide you with fond recollections and pleasant memories for years to come.
---
Château de Grézan
From Montpellier it was about a 90-minute drive to Laurens and 'Le Petit Carcassonne'. You will see why it has been given that nickname from its photo on the next page. Bordered on one side by lush forest and on the other by vineyards, the property is vast and unique. The delightful owner of the château itself and the restaurant just inside its gates is Marie-France Lanson, originally
from a Champagne-producing family in that region of France, but who has lived in the Hérault for many years. We're going to quote the description from the au Château web site which presents the château to travelers, because it encapsulates the fascinating history behind this unique and delightful place:
"Grézan has been at the geographical and cultural crossroads ever since Roman times and is on the route of the early Christian pilgrims making their way to the shrine of St Jacques de Compostelle. The Templar Knights used it as one of their more important regional bases for collecting taxes to pay for the Crusades until 1307 when their order was forbidden by Philippe Le Bel. When the Knights Templar departed, the Knights of St John of Malta, renowned for their hospitality and military prowess, took over the château. It was only following the French Revolution that Château de Grézan passed into private ownership. In 1824, at the peak of the famous 19th Century Eldorado de Vin ('The Golden Age of Wine Making'), the Mirepoix family began to rebuild the house into what we see today ~ a romantic 'folly' of a medieval castle influenced by Viollet-le-Duc, the famous 19th century architect who restored the city of Carcassonne. The floor inside the main entrance dates to the 14th century and was the floor of the original château's 'inner bassin'."
Our four hours with Madame Lanson were delightful. It was so good to be there again, to wander the grounds, see things about the buildings we might have missed on our earlier visit, and, best of all, to spend time with her in interesting conversation about her life there today and her future plans for the château.
For those of you interested in staying in the Hérault, there are three beautiful guest rooms in the château and four apartments in the dependencies. Hostellerie de Grézan is the restaurant on site run by Monsieur et Madame Agusti, but with four days advance notice, dininer can be taken in the château on Sunday and Wednesday evenings from Easter to October 1st. The château is open to guests all year 'round.
---
Pyrénées-Orientales: Roussillon
The Pyrénées-Orientales (66), also the Roussillon part of Languedoc-Roussillon, provides a visitor with dramatic landscapes, naturist beach communities, interesting small cities such as Perpignan, Collioure, Prades and Cêret, minuscule communities such as Llo, and the entrance from France to Andorra. It is also referred to as French Catalonia, and its many different names illustrate the diversity and uniqueness of the département.
French Catalonia was not always part of France. Battles had been fought between France and Spain over this region until the County of Barcelona successfully drove out the Moors in the 700s. The region remained a Spanish entity of one sort or another until 1463, when the Catalans rebelled. Louis XI of France took advantage of the situation and claimed Roussillon for France. Thirty years later, Charles VIII gave it back to Spain upon the marriage of Isabelle of Castile to Ferdinand of Aragon making it possible for Madrid to rule all of Catalonia on both sides of the Pyrénées. The Catalans wanted independence from Spain, but not necessarily to become a part of France. In 1659, Louis XIII of France led the Spanish to believe he wanted all of Catalonia on both sides of the mountain range, but agreed to accept only that which fell north of the mountains ~ an agreement that seemed like a concession to the Spanish. In reality, he got exactly what he wanted: a secure, natural border between France and Spain. Today, Catalans in Spain continue to talk about their independence, while those in Roussillon seem content to remain a part of France, which pours large sums of money into its economy to develop the tourist towns and attractions. The region in turn not only supplies France with red table wine, but with fruits and vegetables produced during its very long growing season.
An interesting regional history lesson is that of Llivia, a Spanish enclave not far from Llo and Saillagouse, and surrounded by France. It is the capital of the Cerdagne, a name still in use for this region. During Roman times it was called Julia Livia and was significant during the time of the Treaty of 1659, which should have transferred it to France's control. The townspeople didn't want to be included in the treaty and looked upon like all the other towns in the region. They insisted that they should remain a part of Spain because the River Sègre, running through Llivia, originates in Spain and flows back into Spain again through their enclave and pastures. Today, Llivia is still part of Spain but 100% in France. Tourists can enter and leave without incident, although there is a border crossing ~ usually unmanned. If you want to stay in this area, do consider reservations at Hotel l'Atalaya in Llo ~ a very special and welcoming bed and breakfast with a fine restaurant.
The region is also in the forefront of solar energy research and production. Since the 1950s, because of the many days of sunshine and clean air, solar energy has played an important role here. The town of Odeillo north of Saillagouse near the small city of Font-Romeu on Mont Louis, is home to Four Solaire, a project generating temperatures up to 4,000 degrees Centigrade through the use of enormous concave mirrors ~ it is a solar oven used by researchers and even NASA. It was constructed between 1963 and 1969 and went into service in 1970 ~ proof that solar power is not a pie in the sky dream but something the entire world can and should be doing now to create sustainable energy.
continued on page 5