IN THIS ISSUE:
A New Decade . . .
~ FRANCE On Your Own in its 11th year
Paris Enigmas
Ici et Là
Homage to L'Abbé Pierre
by Kristin Espinasse
Do You Know this Paris Museum?
by Bryna C. O'Sullivan
Franco-American Portraits:
~ An Interview with Catherine Domain
by Arthur Gillette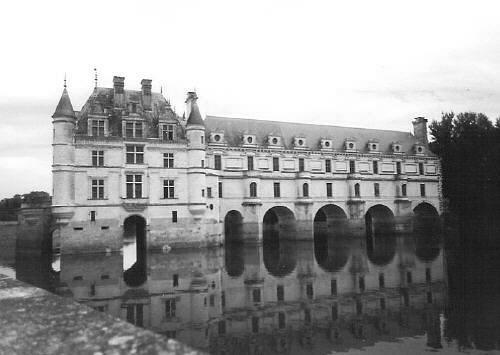 Château de Chenonceau
French Wine Report:
~ A Tour of Bordeaux with an Expert
FEATURING
The Centre / Val-de-Loire
Including The Loire Valley - a Veritable
Gastro-Cycling Paradise
by Corina Clemence
It seems like only yesterday that we composed and mailed out our first newsletter to some 30 (yes, 30!) paid subscribers. We wrote about planning a trip to France, driving in France, working with a travel agent and the choices of accommodations most suitable for travelers and their families. And, we took our readers to Normandy ~ our first regional feature.

A lot has changed since the Spring of 1997: we have evolved along with technology into a free online publication. Because of the Internet, we now network with many people in the French tourism industry, enabling us to bring so much more to our readers and to those who visit our web site every day. These last ten years have expanded our world as well and brought us many friends and close business associates ~ we may have benefited from our work more than anyone else!

Best of all, however, are the hundreds of thousands of people we now reach around the world. Our newsletter began in 1997, but it was 1998 that our web site went online. It took a few years for people to know we were there (and to discover that the Internet was the most incredible way to make travel plans), but our site is now visited by over 8,000 people per month. Our newsletter subscriber base, starting with 30 people, now numbers in the many thousands. Yet, our goals are the same: we want people to visit France, to make their own plans and decisions about where to go, where to stay and what to see, and to discover all that France has to offer. If we can, along the way, suggest exciting destinations, worthwhile things to do and high-end (yet economical) accommodations, all the better.

This issue, the first of our second decade, will take readers to one of the most popular regions of France: the Loire Valley. . . the Centre. It is a place we have visited many times to experience the royal châteaux brimming with intrigue and history, the vineyards producing France's lesser-known but superb varieties of wine, the beautiful and incredible villages and cities of the region, and the River itself ~ an important waterway both in France's history and in the 21st century.

In keeping with this issue's regional feature on the Loire, we will begin a five-part series about the highlights of the Valley written by a transplanted Australian lady who is now the proud owner (with her husband and children) of a magnificent Loire château near the city of Blois. We are confident that her prose and depth of information will appeal to you, and that her articles for our newsletter will give you an insider's perspective so important to fully enjoying a destination.

Also in this edition of FRANCE On Your Own, we will tag along with Arthur Gillette as he visits with Catherine Domain at her unique book shop in Paris, and Bryna O'Sullivan who tells us all about an equally unique Paris museum.

Don't miss our regular columns and special reports such as those by expat, Kristin Espinasse, on the passing of a much-loved French priest. And, thank you for being with us as we begin our 11th year of publication. Please tell your friends about FRANCE On Your Own ~ each issue is like a free visit to France!

---