The Loire Valley ~ a Veritable Gastro-Cycling Paradise
~the first of five glimpses of the Loire by someone who lives there

by Corina Clemence

Envisage a land of mile after mile of nearly flat bike routes that gently sluice through a fertile river valley irrigating some of the world's finest acclaimed vineyards. Picture magnificent Renaissance châteaux, charming villages, and sunflower-filled hillsides. Then, combine all this with cuisine that would make even the most seasoned chef salivate. The few drivers you encounter are pleasant and courteous showing an admiration for the cyclist. Do you know where you are? This is not fantasyland ~ it is the beautiful Loire Valley.

This magnificent, majestic region is best experienced if you don't approach it at a Tour de France speed. Take your time. Remember you are on holiday, and you are not trying to set any records. Leisurely drink in the scenery and the culture and sample some of the acclaimed local wine while enjoying a picnic beside the Loire ~ always remembering you have to get back on that bike!
The town of Blois, gateway to the Loire Valley, makes for an ideal starting point for a cycling adventure through the 'Garden of France.' Spend one day cycling past vineyards and fields of sunflowers around the magnificent châteaux of Chambord and Cheverny just east of Blois. These two famous châteaux have lured visitors for centuries. Chambord is the largest of the Loire Valley châteaux ~ with a façade over 18 stories high with 440 rooms and 365 chimneys it has been referred to as 'the mathematisation of architecture'. It was originally designed as an ostentatious hunting lodge for François I. In its 500-year history it was used as a royal residence for only 20 years. Chambord sits proudly surrounded by the largest hunting estate in the Loire Valley.
Château de Cheverny has a richly furnished interior that attracts art aficionados and antiques roadshow fans from all over the world. Allegedly, the exterior was the inspiration for Marlinspike, in the Tintin comics by Hergé. Cheverny has a working pack of hounds, and you can visit the kennel at feeding time to see the frenzy. Cheverny is also an AOC wine appellation region worthy of some wine tasting.
After you've had your fill of ogling architecture, spend another day cycling around beautiful Amboise on the Loire River with its medieval château and charming village. Leonardo's home, the Château du Clos-Luce, where he spent the last four years of his life, is located just outside Amboise. Here you can visit his sitting rooms, chambers, and kitchen. There is a museum with over 40 models of some of his incredible inventions. The park at this château is breathtakingly beautiful. DaVinci's remains are interned at Château d'Amboise.
Next you can pedal southeast across the Cher River to the castle of Chenonceau, one of the loveliest sites in the Loire Valley. Straddling the River Cher and backing off into an expanse of forest, the château is hemmed in by two outstanding gardens. It is the most visited château of the Loire with over one million visitors a year.
The history of the four dames of Château de Chenonceau is absolutely fascinating and probably much more interesting than your schoolteacher ever alluded to. Henri II was 13 when he took Diane de Poitiers, 20 years his senior, as his mistress. Catherine de Medici was 18 years younger than Diane de Poitiers and three years into her marriage to Henri II, when Diane was announced as his official mistress. He gifted Château de Chenonceau to Diane de Poitiers even though it was inalienable royal property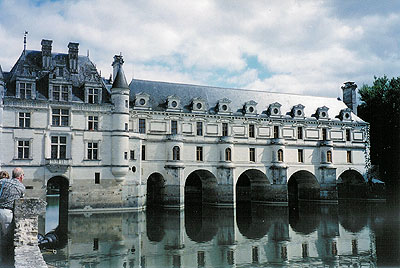 Henri spent most of his days and nights with Diane. Diane became acutely concerned that Catherine might not produce a male heir resulting in her marriage possibly being annulled thereby exposing Diane to a potential combatant possibly not so understanding as Catherine. Diane, the older wiser woman, set about encouraging Henri to spend more time with Catherine. Henri would visit her chamber first then go and spend a few hours in Catherine's chambre before returning to Diane's chambre to finally retire for the night. Apparently Diane even advised Catherine on some other points (and we are not talking how to do a better pot roast here) and eventually a male heir was born.
Unfortunately, Henri II, not being the type of monarch to sit on the sides at festivals, succumbed to a nasty jousting accident and died at an early age leaving a succession of infant heirs to the throne of France. When he died in 1559, Catherine forced Diane into exile to slum it in the smaller, far less prestigious château of Chaumont on the banks of the Loire River closer to Blois.
After Catherine moved in to Château de Chenonceau, she had the beautiful gallery added, which is 180 feet long, 18 feet wide, with 18 windows and set on arches over the Cher River. It was originally used as a ballroom, and in World War I it became a hospital where the wounded soldiers used to fish from the windows.
Villandry lies west of Chenonceau and beckons cyclists. The Château de Villandry is most famous for its wonderful gardens, and is considered a must see for gardeners. There are three different gardens in all: a Louis the XIV style vegetable garden, an ornamental mosaic flower garden, and a water garden with pools and waterfalls. Many people skip the interior of the 16th century château and come for the gardens alone.
Luxury châteaux sprinkle the region, ready to soothe away any saddle sores with their great cuisine and crisp, cool acclaimed local wine. You can chose to hire a room or a whole chateau together with your friends or family members. You could not pick a more picturesque, more comfortable and leisurely, palate-friendly holiday destination anywhere in the world.
Corina Clemence owns and operates Château du Guerinet, just west of Blois ~ a splendid luxury chateau
sleeping up to 16 people, set in the middle of a 4000 acre forest. Enjoy bed and breakfast
accommodations or rent the entire château at certain times of year and throughout the summer months ~
pay it a visit at the above web link. The castle is a great base for a Loire Valley cycling holiday.
[Mouse over photos for desciription.]
---
FEATURING the Centre Val-de-Loire

The popular and historical Centre region of the country is our destination in this issue of FRANCE On Your Own. We will not only focus on the famous châteaux that populate the Valley of the Kings, but take you on some side trips into the peaceful countryside and to interesting towns and villages. There you will discover, among other things, why this part of France became the home of many writers and composers seeking solitude and inspiration for their work. As with many of the départements in France, the six which comprise the Centre are named for rivers. In this newsletter we will visit the three southernmost – those bordering the neighboring regions of Pays de la Loire, Poitou-Charentes, Auvergne and Bourgogne; they are the Cher (18), Indre (36) and Indre-et-Loire (37) départements.
Convenient to Paris by car or train, the Centre is geographically in the middle of the country from east to west, but fully in the northern half of France. It is a large area with six major rivers and numerous minor ones. Among its great forests are the Forêt de Boulogne in the Parc de Chambord, the Forêt d'Orléans northeast of the city of Orléans, and the Forêt de Bercé some 50 kilometers north of the city of Tours. There are many smaller woods including the Forêt de Châteauroux, and hundreds of lakes which dot the plain south of Orléans and Blois.
Troglodytes, or cliffside dwellings, are a unique feature of this part of France. Most can be found along the River Loir, and in the Loire Valley near Saumur, Amboise and Vouvray. Dating from prehistoric times and used in more recent years to store wine or grow mushrooms, tufa (tuffeau = soft limestone) homes are built into cliffs near the rivers or dug into the ground. Today they serve as primary or secondary housing, having become much sought after as weekend or vacation getaways by French city dwellers.
Not unlike other regions of France, the Centre produces its fair share of wines. Some of the better-known appellations are dry whites like Pouilly-Fumé and Sancerre or reds such as Chinon and Bourgueil. Sparking whites are also produced, as are sweet wines such as Côteaux du Layon, Vouvray and Montlouis. One must not overlook the delectable cuisine of the region or the abundant opportunities to stay in classic château lodging.
'French' could be the single word that best describes the feeling that prevails when one is in the Centre of France. This region may well be the most 'French' of all of France. Yes, it is la Vallée des Rois, where French kings, their queens and their mistresses filled the history books with tales of intrigue, politics and unbelievably opulent lifestyles. And the monuments they have left behind for us to enjoy means it will always remain the Valley of the Kings. The great châteaux, drawing scores of tourists, are breathtaking – some decidedly bigger than human scale and nearly too grand to imagine that they were once residences where a semblance of day-to-day life took place. Yet, there they stand, surrounded by sprawling, manicured gardens, bordered by hand-tended forests, straddling or on the banks of wide rivers, and reminding every visitor who enters through their portals that these imposing architectural triumphs were the center of culture, art, literature and the cradle of the French Renaissance.
Life went on in smaller manor houses, too, and in the river valleys of the Centre you can still find stately homes once belonging to great names in literature, music and the arts. One such home is that of novelist, George Sand, in the quiet country village of Nohant a few kilometers north of La Châtre. Also known as 'Nohant-Vic', this is the 'village of George Sand.' The Romanesque church of Vic and town square are listed historical sites, as are the XIIth-century church frescoes. Annual events taking place in the town include the Village Festival in July, displaying handicrafts and depicting folklore, and the Romantic Festival (classical concerts) in June. The home of George Sand hosts guided visits today. It is situated in a large park, and behind a high stone wall in a quiet corner of the property is the family cemetery.
Most interesting for fans of George Sand's writings is that her novels were all set in the region around Nohant and the larger town of La Châtre. For those of you who are familiar with some of her writings, the Castle of Motte-Feuilly is where several scenes from 'Beaux Messieurs de Bois-Doré' ('Good Gentlemen of Golden Wood') took place, and you may recognize the donjon of Sarzay mentioned in 'Le Meunier d'Angibault' ('The Miller of Angibault'). A number of her works were translated into English in the 1970s, with a few having been translated in the decades after they were first written. George Sand's presence is felt throughout the region from Château de Châtellier south of Châteauroux to Ste-Sévère-sur-Indre southwest of La Châtre. She christened the region the 'Vallée Noire' ~ the black valley ~ when she wrote "Distant landscapes have that pretty blue color that becomes violet and almost black on stormy days." From her books, read the world over, people learned of the places, monuments and beautiful countryside she enjoyed during her years at Nohant.
continued on page 6