Provence...France's southeast corner
In this issue we will visit the three départements of Provence that we did not cover in our last issue: Alpes de Haute-Provence (04), Hautes-Alpes (05), and the Alpes-Maritimes (06).
The Alpes de Haute-Provence (04) is a wild land of open spaces, azure blue skies and dramatic gorges and mountain peaks. Winding mountain roads and river rapids are everywhere to be found, and this is definitely the kind of land that beckons to the outdoorsmen and women. Large lakes invite sailing, alpine hiking and trekking are common pastimes and hang gliders sail above the wide and empty valleys. Fewer people live in this region of Provence than any of the other five départements, It is the place for utter relaxation, truly rejuvenating vacations, and the ideal location to unwind from one's workaday life, and to spend your days benefiting from the crisp mountain air. It is the perfect mid-summer destination as the weather is temperate while elsewhere in Provence heat waves may be taking their toll on visitors.
There is a wealth of natural wonders, but perhaps the most famous, and often called the 'Grand Canyon of France', is the Gorges du Verdon. The beauty of this region is protected whether it is the Réserve Géologique near Digne-les-Bains or the Parc National du Mercantour or any one of the myriad other unique attractions provided by nature. The northernmost Provençal town is here: Barcelonnette lying just northwest of the large Parc National du Mercantour, which itself contains five breathtaking gorges. Please read about Barcelonnette and how it came to be influenced by all things Mexican on page six of this newsletter.
The town of Digne-les-Bains, famed for its thermal waters, was used by Victor Hugo as a setting for the beginning of Les Miserables. When he returned to the mainland from Elba, Napoléon found he had to avoid the King's troops as he attempted to reach Paris. He took country roads through Digne and Sisteron in Haute-Provence ~ creating the Route Napoléon. As visitors assume a more relaxed pace and wander along the country lanes, it won't be unusual to find farms advertising their fresh produce, honey or recently harvested mushrooms such as cèpes or morels.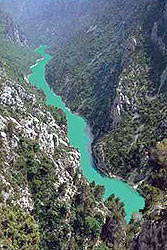 Despite the region's past wars, today is about as peaceful as any place in France. Don't be surprised to find a Buddhist shrine built here by Parisian Alexandra David-Néel (Musée Alexandra David-Néel) following her study of Oriental languages at the Sorbonne and her subsequent years spent in Tibet. As a renowned Tibetan scholar, this incredible woman and prolific writer returned from a visit to China, began writing four more books and died in Digne at the age of 101 in 1969.
Those tempted to descend the Gorges du Verdon have a wide range of choices on the method. They can raft, participate in white-water swimming in wet suits, helmets and using a special type of surfboard, use a two-person inflatable canoe, canyoning which is a combination of white-water swimming and rappeling down into the canyon, aquatic walks through the water, 'flotting' which is floating feet first wearing an inflatable backpack, and kayaking. Contact Aqua Verdon at 33.4.92.83.67.24 from outside France for more information.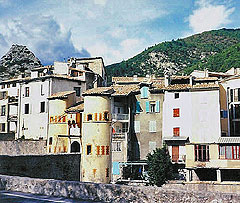 The incredible and picturesque town of Entrevaux is in this département, and for many years our web site Marketplace page has advertised the rental of an apartment built into its medieval ramparts. If you are leaning toward a visit to this part of Provence, do consider this apartment, owned by Americans who use it themselves for a few months each year. It is the perfect base for visiting the region, hiking the hills or trying any one of the many adventures offered to vacationers.


---
The Hautes-Alpes (05) is bordered on the north by the département of the Savoie and on the east by the Isère and Drôme, is dotted with mountains and resorts ~ a region popular with skiers. 'Dramatic scenery' are the two words to best describe this département. One guide book removed it from Provence and made it part of the Rhône Alpes region, but Michelin (our trusty geographic 'bible' shows it as the northeastern most part of Provence bordering Italy and not all that far from Torino as the crow flies.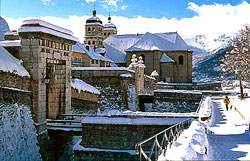 This is a winter vacationer's paradise with picturesque valleys that make one think of Switzerland. The main town, with a permanent population of only 12,000 in habitants, is Briançon with the distinction of being the highest town in Europe at 4,330 feet altitude. Its history predates the Romans, as it has always guarded the Col de Montgenèvre, one of the most important passes into Italy. Visitors will admire its well-preserved 18th century ramparts and gates designed and built by Vauban, King Louis XIV's military architect. Most interesting is the Grande Rue, the steep, narrow street that has a stream coursing down its middle ~ a street lined with lovely houses. Vauban also built the Eglise de Notre-Dame, completed in 1718, constructed for defense purposes as well. Guided tours of his citadel can be arranged at the tourist office. Briançon is a center for skiing, cycling and rafting, and is very much worth a visit in any season.

---
The Alpes-Maritimes (06), is known to the world as the 'Riviera' or 'the South of France', but to the French it is simply the Côte d'Azur. Guide books find it difficult to define and include it as part of Provence. Even maps don't point out the exact area which makes up the Côte d'Azur, nor is there an actual water's edge named 'Côte d'Azur' as there is a Côte Fleurie in Normandy or a Côte de Granit Rose in Brittany.
In this place, the eastern part of which came late to France, the coastal waters are named Corniche de L'Esterel near Fréjus and St-Tropez, the Baie des Anges at Nice, and the Corniches de la Riviéra from Cap Ferrat to Monaco. The Côte d'Azur (Azure Coast) overlaps two départements - the Var (83) and the Alpes-Maritimes (06) , and we would like to take you on a little tour of the latter, as the Var was discussed in our last newsletter. We will venture inland, of course, to some of the fascinating hill towns and perched villages – some, like Eze, with spectacular views of the Mediterranean far below (see our cover photo).
Be prepared, however, to find yourself in one of the most tourist-packed regions of France, only a bit less so in the off-season. This is especially noticeable on or near the beaches. Apartments line the coast and beach umbrellas belonging to the various ocean-front hotels dot the shoreline with color. From the very Italian Nice to the convention city feel of Cannes, you will find tourists. But, dare to venture off the beaten path into little villages and places you don't read about in guide books, and you may find yourself amazed by the place! To help define this département, the towns of Cannes, Grasse, Nice, St-Paul de Vence, Eze, Vence, and Menton are in the Alpes-Maritimes. All but a few hug the coastline, traversed by a fast-moving, noisy thoroughfare which more often than not infringes upon the tranquility of the lovely beaches beginning just yards away from the highway's edge.
Blessed by an extraordinary climate, the Côte d'Azur at such exclusive spots as Cap d'Antibes and Juan-les-Pins, is home to many of Europe's film stars and show business expatriates from the United States along with other people of wealth who can afford it. It's not the least expensive place for tourism either, with hotels demanding (and getting) high tarifs for their rooms, and upscale restaurants charging a tidy sum for meals. But, if glamour is what you are seeking (or if you just want to be near it), this part of France is probably going to offer you more of it than anywhere else. Balmy evenings (even well into Autumn) and generally sunny weather, reinforce the resort atmosphere – when you are on the Riviera, you have no doubt in your mind that you are on vacation!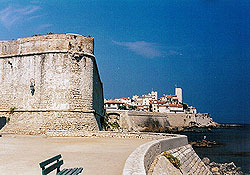 Perhaps the only fortress castle to be seen in this area can be found on the shore of La Napoule-Plage. Here, at night at the westernmost edge of the Alpes-Maritimes département, it is illuminated by floodlights accenting its 14th and 15th century forms. The commune of Mandelieu nearby is a small, residential cluster of homes, some quite attractive. It's a lovely place for a stroll as you make your way down to the small cove and beach frequented by locals and lots of young children.
Following the coastal (N98) highway ~ more pleasant to drive on than to sunbathe near ~ you reach Cannes (pronounced 'can') which became an interesting destination and resort for the upper classes in the 1830s. It was a sleepy little fishing village at the time, but was discovered by the British Lord Chancellor, Lord Brougham, on his way to Nice, his journey interrupted at the time by Nice's cholera outbreak. The renowned boulevard de la Croisette, lined with palm trees, is home to famous hotels such as the Carlton and many exclusive shops, while across the street one will find the city's popular and wonderful sandy beaches. Cannes is most famous for the annual film festival, held in the Palais des Festivals, which not only houses that event and conventions throughout the year, but also contains a nightclub, restaurant and a casino.
It is beyond Cannes, as we follow the coastal road, that we suggest an important detour. You will find that the N98 becomes the N7 with no notice taken of the change. At Golfe-Juan, bear right to remain on the N98 (now a smaller road) which wends its way through Juan-les-Pins and around the little peninsula to Cap d'Antibes. Continue to bear right to remain on the coast road, now the D2559. Large estates and luxury homes dot this rare quiet part of the coastal highway. You'll soon arrive in the town of Antibes, rather nice for lunch, window shopping or sitting at a chic sidewalk café to do some people-watching!
Originally a Greek trading post, Antibes (Antipolis) was later settled by the Romans. It became part of France in 1481. Antibes is home to the Romanesque Château Grimaldi, constructed in the 12th century and once the residence of Monaco's royal family. It is now the home of the Musée Picasso and once housed the artist's studio. The story goes that Picasso was quite a local attraction in Antibes following World War II, and in 1946 was approached by the curator of the Château Grimaldi museum (still closed at that time due to the war) and offered the use of rooms in the château. Picasso spent four months working extremely hard in his top floor studio at the château, producing some 44 drawings and 25 paintings. He also painted Ulysses and the Sirens in that studio in the summer of 1947, and the following year all work he had created in the château became the property of the Musée Picasso – the first art museum in the world named for a living artist.
In the 1920s Cole Porter came to Antibes when it was all but unknown, and was soon followed there by a socialite Boston couple, Gerald and Sara Murphy, who bought an Art Déco house, eventually to become known as the Villa America, and began inviting writers such as F. Scott Fitzgerald, Dorothy Parker, Gertrude Stein and Ernest Hemingway to stay with them. Fitzgerald's Tender is the Night, is set in Antibes. Another American, railroad magnate Frank Jay Gould, developed hotels in Juan-les-Pins with American amenities, drawing visitors to this newly-created resort town. His buildings included air-conditioning and windows sealed to keep out the very aggressive mosquito population. The Jazz Age was celebrated on the peninsula, and today jazz festivals are still held in Juan-les-Pins. As you leave the peninsula heading east, the coast road once again becomes the N98, and now all signs point to Nice.
Nice is a large, spread out city with a convenient little airport just west of town on the coast. The city, as we explained earlier, is not a place we would choose to drive in again, although you may very well find it no trouble at all. But as large as it looks (see a Michelin map or Michelin Motoring Atlas France), we found it quite easy to walk from our hotel in Cimiez (the hills behind the city) down into the business and shopping district. It is probably 6 kilometers from Cimiez to the Promenade des Anglais, with its boardwalk (watch for rollerbladers!) and Mediterranean breezes. Take note, however, that the beach in Nice is pebbly – almost stony. You will need beach shoes and can take advantage of the many chairs on the beach provided for sunbathers. If you are looking for sand, head west back to Cannes. Nice is famed for its parks, which you will come upon during any walking excursion.
Nice is France's fifth largest city and by far the major resort on France's Mediterranean. It can brag that it probably has more museums than any visitor has time to see. Aside from the Matisse Museum in Cimiez (Nice's most fashionable neighborhood and home to Roman ruins) there is the Musée Chagall on avenue du Docteur Ménard, the Museum of Art and History (the Palais Masséna) on Promenade des Anglais, the Cimiez Museum of Archeology, the Musée d'Art Contemporain on Promenade des Arts, and the Franciscan Museum and Cimiez Monastery located in a 17th century convent, to name but a few. Just as you can purchase a museum discount pass for Parisian museums, you are now able to do the same for those in Nice – from the United States before you travel to France.
Other attractions in this city are the Cathédrale Ste-Réparate, behind cours Saleya, the location of the daily market. The vieille ville of Nice lies here at the foot of the hill called the Château. The narrow streets and tall gold, yellow, peach and pink buildings have balconies often draped with drying laundry and pots of flowers. Italian until 1860, a walk through Old Nice makes you forget entirely that you are in France. We found the sights, sounds and smells are pure Mediterranean Italian, with pasta restaurants and lots of activity.
We have read that on the Riviera, people have never quite reconciled themselves to being French. It is well known that the local governments oppose Paris at every turn, and that corruption is hardly unknown. Nice personifies these traits most of all. The Riviera was 'occupied' by foreigners from ancient times when it was discovered as a vacation destination and a resort with so much to offer. In recent times, the Americans were there; White Russians established a colony (visit their Cathédrale St-Nicolas in Nice); and the English are credited with 'discovering' Nice…thus the seaside boulevard named Promenade des Anglais. This wide and busy street displays Art Nouveau architecture amid ordinary little brasseries, upscale galleries and boutiques -- and then there is the Negresco!
The Hôtel Negresco in 1974 was classified as a National Historic Monument by the government of France. In its Belle Epoque style it holds a prominent spot on the Promenade des Anglais, number 37 to be precise, and if you don't actually stay there, do at least go inside! Greeted by a costumed doorman in a top hat, you enter the Salon Royal lobby ~ extravagantly carpeted and lit by a massive chandelier ~ perhaps a lobby like none you have ever seen. Expensive shops surround the space, and art work lines the walls. The restaurant in the hotel, Le Chantecler du Negresco, had two Michelin stars last time we checked. As you stroll on the boardwalk at night, the monument that is the Negresco is lit up like a jewel and will stay in your memory for a long time to come.
Don't miss the little harbor at Nice. There you will see yachts, or perhaps as we did, the ferry that just arrived from Corsica. The harbor is very picturesque, and many restaurants and shops line the Quai Lunel. The harbor is easy to reach if you are heading east on Promenade des Anglais whose name changes to Quai des Etats-Unis near the Old Town, then becomes Quai Rauba-Capeu, and finally, as it turns north along the harbor, Quai Lunel.
Beyond Nice in the direction of the Italian border, the drive is quite dramatic, often with breathless views of the sea far below and then back down to sea level. If you choose, you can take a bus tour from Nice through Villefranche-sur-Mer (where the cruise ships come in) to such spots as Monte-Carlo in the Principality of Monaco, and the last town in France (and its citrus capital) Menton. Just past the beautifully-situated Villefranche-sur-Mer with its deep harbor and attractive waterfront, is Cap Ferrat, a peninsula that is home to sumptuous villas once occupied by Somerset Maugham and Baroness Ephrussi de Rothschild, the latter now a museum of porcelain, paintings and tapestries bequeathed to France in 1934. Along the coastal road are the towns of St-Jean-Cap-Ferrat and Beaulieu, before you arrive at Eze-Bord-de-Mer, the seaside village that one sees when visiting its hillside 'sister', Eze, one of our favorite places on the Côte d'Azur.
The Principality of Monaco is unbelievably small, covering a total of three-quarters of a square mile! Its history began with Greek settlers, became Roman by force, and then purchased from Genoa in the early 1300s by Prince Rainier's family, the Grimaldis. This is one of the world's oldest monarchies and probably one of the best known since Grace Kelly became Princess Grace in 1956. Monte Carlo itself takes one back to an earlier time, when night life was all there was. Now, the casinos, even those with private gambling salons for those who don't want to be seen, are places like none other on earth, places where the glitterati still come to see and be seen. And, because the principality wants to keep a tight reign on things, cameras are everywhere…so everyone is being seen!
Menton is not only a pleasant resort with a most enjoyable creamy white Belle Epoque old town, but it is a place where citrus fruit grows year 'round as it is surrounded on three sides by steep mountains giving it a unique protected climate. In mid-February through March, the big attraction is the Menton Lemon Festival. One guide book shows the Taj Mahal (and it's gardens) recreated in Menton entirely of lemons and oranges! Each year the creative people of Menton design and build spectacular buildings, animals and other imaginative structures entirely of citrus fruit! Landscape artists, too, love this little city for its beautiful parks and grand vistas.
CONTINUED ON PAGE 6