IN THIS ISSUE:
Café Sitting is a Full-Time Job
by Jill Butler
Paris Enigmas
Ici et Là
Franco-American Portraits:
~ An Interview with Jeff Berner
Petite Pleasures
by Maxine Schur
The Bookshelf:
~ café life Paris
a book by Christine and Dennis Graf
The Return of the 3-hour Lunch
by Barbara Pasquet James
Traveling in France with 'KB'
French Classes in Paris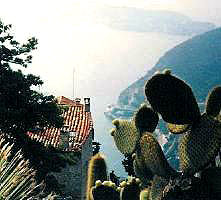 The View from Èze
FEATURE: Provence Revisited
~ Part Deux
Barcelonnette
~ Provence's Little Corner of Mexico
by Barbara Beaumont
A Luxurious Riverfront Rental
in Burgundy
~ Angle-Terre
I started everyday in the corner café, not just any café, but rather the famous Salon du Thé, Ladurée, on the rue Royale, numéro 16.*
First priority was un double express et un croissant aux amandes. Next came the reading of the newspaper, not just one, but three: the International Herald Tribune, The International Edition of the Wall Street Journal, and Le Figaro. For survival at a dinner party or social conversation, it is imperative to be on top of the news both in France and in the US. I had a lot to learn.
Having moved from New York City, I'd taken up the habit of eating breakfast out. It seemed the perfect way to connect with the still somewhat sleepy world, to see people, to be alone, but not lonely. I could ease into my work as the caffeine did its job.
I wrote my first book, Paintbrush in Paris, sitting in Ladurée. I went daily for nearly 14 years. Paintbrush was my American cat that immigrated with me. He was my English-speaking friend and voice in telling our story of moving to Paris through this first illustrated book.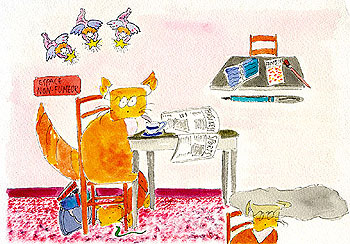 The day came, a year and half later, when the first copies of Paintbrush in Paris arrived. I held my breath and slowly let it out as I read it through. It wasn't embarrassing!
The next morning, I tucked a copy into my bag and headed out for breakfast. I shared it with Anick, my usual serveuse, and she shared it with the manager, Monique.
By a convergence of the stars, the new owners of Ladurée, Francis Holder, and his son, David, were sitting next to me at one of those miniature tables ~ meaning we were practically sitting elbow to elbow. So, Paintbrush in Paris was again shared by Monique, but this time with the Holders. Mr.Holder Senior ** turned to me and said, "Charmant, Madame, bravo!" He asked me who I was, what I was doing in Paris and suggested I should illustrate something for the salon.
Heart pounding, I spontaneously proposed a series of postcards that could be sold to other Ladurée and postcard enthusiasts like myself. He took to the idea and immediately passed me and the idea to his son, David, with whom I negotiated our agreement. I was then introduced to their design and interiors director. With the details of our project concluded, it was time to begin.

CONTINUED ON PAGE 2


---