In the US. . .
o Carmontelle's Transparency: An 18th Century Motion Picture

The unique invention of Louis Carrogis de Carmontelle is examined at this exhibit which presents the artist's creative forerunner of the motion picture. The 12-foot long transparency, 'Figures Walking in a Parkland', was a work of watercolor and gouache showing members of the aristocracy and bourgeoisie strolling through an imaginary park. Through June18 at the J Paul Getty Museum, Los Angeles. www.Museum.getty.edu.
o The Renoir Returns: A Celebration of Masterworks at The Phillip's Collection

'Luncheon of the Boating Party' returns to Washington DC after a four-year tour to seven US cities and various world destinations. Among other artists exhibited in the collection are Kandinsky, Gauguin, Klee, and Bonnard. Through July 30 ~ for information www.phillipscollection.org.
o In Pursuit of Genius: Jean-Antoine Houdon and the Sculpted Portraits of Benjamin Franklin

This exhibit focuses on the French sculptor's marble portrait bust considered one of the most familiar images of Benjamin Franklin. It is presented along with other versions in various media ranging from terra cotta to bronze. Paintings, drawings, prints and documents are also on view. At the Philadelphia Museum of Art through July 30. Information from www.philamuseum.org.
o Sèvres Porcelain

Sèvres porcelain, named the Manufacture du Roi in 1753, enjoyed enormous support from King Louis XV, who purchased it in 1759. The exhibit is called A Taste for Opulence: Sèvres Porcelain from the Collection and offers visitors a glimpse into the factory's production and the opportunity to see a very impressive collection of 18th century French furniture decorated with Sèvres porcelain. Through August 13 and the Metropolitan Museum of Art, New York City. Details at www.metmuseum.org.
o Degas to Picasso

An exhibition at the Museum of Fine Arts, Boston, through July 23, will include 280 paintings, sculptures, drawings, watercolors, prints, photographs and illustrated books of artwork from 1900 to 1960, exploring individual artists' growth and the rise of new artistic movements. Featured will be the work of Man Ray, a key participant in the Dada and Surrealist movement in Paris. Details at www.mfa.org.
o Anne-Louis Girodet

An exhibit entitled 'Girodet: Romantic Rebel' will be presented at New York City's Metropolitan Museum of Art through August 27, with 100 of the painter's works covering subjects as diverse as mythology and Napoléon's military triumphs. From early neoclassical styles to his later dreamlike canvases, the collection is wide ranging and even encompasses some of his lesser-known book illustrations and drawings. Visit www.metmuseum.org.
o Milwaukee

The Milwaukee Art Museum presents Géricault to Toulouse-Lautrec: Nineteenth Century French Prints, a survey of the many themes, styles and techniques characterizing this avant-garde period of printmaking, including the work of Géricault, Millet and Delacroix. Through September 3. Information at www.mam.org.

FRANCO-AMERICAN PORTRAIT:
~ A « Third Half-Time » on The Slopes of Montmartre
by Arthur Gillette
Sixty-five-year-old Jeff Berner is an award-winning photographer, author
(currently finishing book number eleven: Creative Loitering in Paris: Rediscovering the City of Light)
and animateur extraordinaire of the Atelier Berner, at 102 bis rue Lepic, a few steps' descent from the Sacré Coeur.
He moved from Marin County, California, to Paris in 2000. Seeming to be in perpetual motion,
he was, however, flagged down recently by Arthur Gillette, long enough for this exclusive
FRANCE On Your Own interview in the Atelier'sgarden.
AG: What epiphany brought you to live in France for the rest of your life ?
JB: French art, poetry and philosophy grabbed me as a teenager. It was in English, but it touched me as English literature itself did not. At age19, I just had to check out the original scene that inspired Camus, Rousseau, Satie and the other inventors of modern artistic expression. Hitchhiking from Scotland down to Greece, I happened on the fortified Medieval village Saint-Paul-de-Vence in the hills of Provence above the Riviera. I immediately understood why this atmosphere had so profoundly inspired Claude Monet, Chagall, Leger and just about tutti quanti who created modern painting. In fact, I felt that I had lived in that village in a previous life ~ probably between 1880 and WWI ~ and I don't even believe in that kind of stuff! But it was a visceral feeling, a recognition that I had come home! So, I settled in for my own "year in Provence."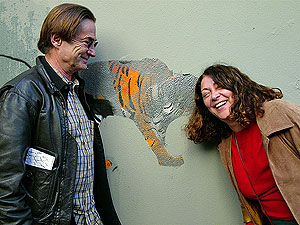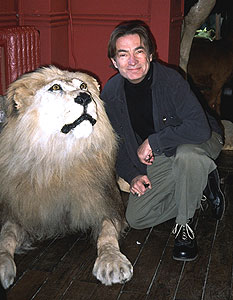 AG: And?
JB: Well, after that year, it became impossible for me not to return to France as often as possible.
AG: I know you frequently go back to Marin County. But your definitive roost is here, right?
JB: You bet! After a rugby game, the French talk about the troisième mi-temps ~ that's the "third half-time", when the teams meet for a little camaraderie and R&R ~ and the brewers tend to make up their year's losses! Well, I look at my world here as the beginning of the "third half" of my life.
The Tribe of Montmartrois
AG: You first lived on the Île de la Cité, a stone's throw (if stones were allowed to be thrown in such a neighborhood!) from Notre Dame Cathedral. Why the move up here to Montmartre?
JB: Montmartre keeps alive the spirit of the Free Commune of Montmartre, dating back to the insurrection during the Franco-Prussian War. The citizens have always felt they were "outside" Paris. And of course, for artists during la Belle Epoque (roughly 1885 to WWI), this poverty-stricken rural neck of the woods was, after all, affordable!
AG: And, if I'm not prying, how did you find this place with such a lovely garden?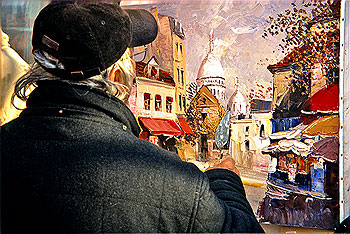 JB: My friend, the surrealist master painter, André Martin de Barros, called me one day to say that the studio next door to him at 102-bis rue Lepic (steps up the street from Moulin de la Galette, in whose garden Renoir painted his most famous garden party canvasses) was going up for sale that very day ~ and if I were interested, I had better come up now! And that's what I did! I said, "Mais, oui!" immediately. By the way, I met André while loitering creatively up in this neighborhood about which I taught for five years at the University of California (as Extension Instructor in French Culture) teaching avant-garde art history. So, when I'm strolling in Montmartre, I know where my feet are planted. I saw him at work through his studio window and knocked on his door. Look at the wonderful sequence of events that domino-effected from that knock !
AG: The Parisians are still said to be among the least welcoming city dwellers on earth. What about the Montmartrois tribe of Parisians?
JB: Hey, they've been great! For instance, I ~ an American! ~ was recently invited to be Artistic Director and Chief Photographer for the local mag, La Gazette de Montmartre, devoted to local social and artistic activity and to the history of what I call this "vortex of creativity". Then, too, in 2005, I was inducted into the Commanderie du Clos Montmartre. I must say that the fact that I have chosen to live in the culture, and not just "on" the culture, makes a real difference. I am honored to be so welcomed here, but I assure you that I try to return the favor every day.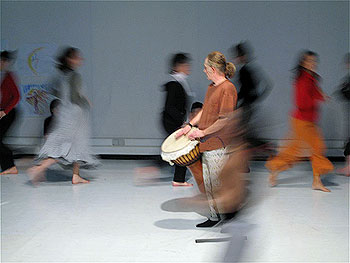 AG: How's your French?
JB: I speak it decently enough, and understand it well if the people don't speak too fast. "Down in Paris," the speech and everything else is much faster. Up here in Montmartre, it's still a real village ~ life is slower ~ and strangers will say "hello", even if you aren't walking a dog!
AG: I know about the Clos Montmartre itself, the oldest extant vineyard inside Paris ~ replicated a few years ago by one at the Espace Brassens in the 15th arrondissement. But, what in heaven's name is its Commanderie?
JB: Well, it may be patterned a bit on the Commanderie du Tastevin at the Hospice de Beaune in Burgundy. We have a lot of fun and oversee the management of the vineyard and the bottling and sales of its limited release wine, whose profits go to local charities. The Commanderie du Clos Montmartre organizes the annual Fête des Vendanges ~ the harvest festival that brings representatives here from all the wine regions of France for an amazing weekend. It's a joy!
AG: And the Atelier Berner? Is this place a kind of gallery?
JB: Yes and no. "No" in the sense that it's not open to the public, although we accept collectors by prior appointment.
AG: And "yes"?
JB: We organize small garden parties, exhibitions, dramatic performances, projections and other intimately convivial events. Next up is a miniature diorama I'm putting on display soon. It comes from the fact that I was raised on a trading post in the Garden of the Gods, outside of Colorado Springs; so I was a little cowboy myself until I was ten.
AG: And what's the diorama going to cover?
JB: It's called 'The Lazy JB Ranch'.
AG: Uhm...what might that be?
JB: Well, pardner, some years ago I created a miniature diorama of a Wild West ranch which was on exhibit at the Museum of Miniatures in Los Angeles for three years (it was across from the LA County Museum of Art, but has now disappeared). I did spend 700 hours building the 1-inch-to-the-foot scale model...which is six feet by three feet by 15" high and is totally realistic. You can imagine how many local visitors ~ and Germans, Italians and Japanese, all great fans of Wild West Americana ~ wandering up or down rue Lepic, will be rooted to the spot outside my windows !

---
Check Jeff Berner's photography at http://www.jeffberner.com
and / or contact him at berner@sonic.net
Jeff is also an artist and has done a number of assemblages,
including one on view at the Walker Art Center in Minneapolis, Minnesota.
And he says, " & I can send full text about it. Photo, too.."

[Photos courtesy of J. Berner ©2006]
---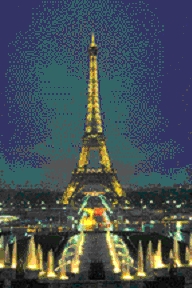 A Notable Quote
It has always been a marvel to me - that French language; it has always been a puzzle to me.
How beautiful that language is! How expressive it seems to be! How full of grace it is!
And when it comes from lips like those [of Sarah Bernhardt], how eloquent and how limpid it is!
And, oh, I am always deceived - I always think I am going to understand it.
- Mark Twain, a Biography
---
Petite Pleasures
by Maxine Rose Schur
We hope you enjoy our newest feature, Petite Pleasures ~ little snapshots of Paris
by contributing writer Maxine Rose Schur. We believe that her insight and writing style
will add a unique and personal perspective to your view of the City of Light.
Le Premier Mai ~ A Day of Luck and Happiness
After four beautiful months in Paris, I flew back to the US on May 1, and the day couldn't have been more special, more auspicious. Of course, I was warned. Soon after arriving in Paris in January, a shopkeeper asked me how long I was staying. "I'm leaving on the first of May," I replied and his eyes lit up. "Magnifique!" he cried, "It is a special day when you must bring a sprig of muguet des bois (lily of the valley) on the plane with you for good luck!"
I had no idea what he was talking about. I knew only two things about May 1. It is May Day, the day I remember from my oh-too-long-ago-childhood when the girls wore circle skirts with starched petticoats underneath and danced with the boys around a Maypole of crêpe paper ribbons set up in the grammar school playground. The other thing I know is that in many countries, May 1 is Labor Day. So, how did May 1 come to be connected with muguet des bois?
The flower itself is full of symbolism. The lily of the valley is said to give us the power to envision a better world. A French legend tells of Saint Leonard who lived near Limoges in 559 AD. He fought a great dragon named Temptation, driving it into the woods where it was never seen again. Where the saint's blood was spilled in the battle, lilies of the valley sprouted as a promise for a happier life. The happy life symbolism for the populace is said to have begun with Charles IX in the 16th century. At the beginning of May, wedding bans were posted and wreaths woven from lily of the valley were hung in doorways of the brides-to-be. In the late 1800s, the international workers movement declared the first of May in honor of the workers of the world. In France it is a national holiday, Fête du Travail (or Fête des Ouvriers).
In a blending of these two traditions, many unions in France sell the lilies to raise funds, and people sport them on their lapels and in their buttonholes. About the Marais where I lived, I saw little tables set up where the fragrant flowers were bought for 3 euros to bring luck in the spring. Lovers exchange un brin de muguet, but they are also given to friends and colleagues and, well, just about anyone who might need a little luck and a whiff of the lovely fragrance.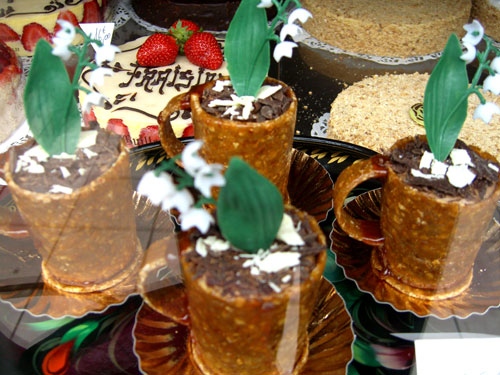 CONFECTIONER'S DELIGHTS THROUGH A PATISSERIE WINDOW
There's a law that lily sellers must sell their sprigs at least 100 meters from a florist, as the florists themselves create the most charming displays in pots and vases of every description. And, just as delightful are the faux lilies of the valley made from chocolate. In the windows of the Paris patisseries are displayed all manner of muguet des bois fashioned from dark, white and mint green chocolate. These sweet bouquets can be as delicately carved as jade. So pretty to look at and so delicious to eat.
On May 1, I took an early morning flight so had no time to buy a sprig of lilies, but luck was with me! On my American Airlines flight to New York, I noticed something surprising. At either side of the movie screen, sat a small green pot of lilies of the valley. So, we landed in the Big Apple bringing along a little Paris pleasure.
[Maxine has just returned from several months in Paris, so we are fortunate to
share in her first-hand experiences through Petite Pleasures. She can be reached and
you can learn more about her at her web site http://www.maxineroseschur.com.
Photo credit and copyright Maxine Rose Schur 2006]


SPONSORING THIS ISSUE:

Planning your next trip to France or somewhere else in Europe?
Click on the above banner to visit the InfoHub web site where
you can order FREE travel brochures online!