Other musts during any visit to Rodez include the beautifully rebuilt Fenaille Museum of history and archeology (http://www.musee-fenaille.com/), with its remarkable collection of menhir statues and the beautiful Renaissance mansion at its center. The Denys Puech Art Museum houses works by the 19th century artist and local boy of national fame for whom it is named, as well as temporary exhibitions and contemporary works.

Farmers' markets are held year 'round on Wednesday mornings (Place du Bourg) and Saturday mornings (Place du Bourg, Place de la Cité, behind the cathedral). On Fridays, there are often antique markets at the Place du Bourg, frequently followed in the evenings by café concerts on the square (Chez Simone).
The public gardens, just down the slope from the cathedral, have maintained a very pleasant Belle-Epoque feel, and are host to a number of lively summer events such as Fireworks and concerts for Bastille Day (July 14th), and a music festival, "Estivada", which I would describe as "Celtic-Occitan revival" (July 19-23). The Pétanque' (boules) Championships (31 July – 3 August) are good fun and a great excuse to wander among the Sycamores, sip a pastis (though Gentiane is the local specialty) and observe this traditional sport which is taken very seriously, indeed!
The Festival de la Musique is celebrated throughout France on the evening of June 21st, and Rodez is no exception. It is really a fun time to wander the town and sample concerts of all sorts, both in the streets and at the interior.

RODEZ FARMERS' MARKET
If you just want to take a country walk directly from Rodez, there is an ancient path leading down from the "MJC" (ask for a map at the tourist office), which leads down a very steep trail (NOT for the feeble!) to the hamlet of Layoule, where you can cross the Aveyron river, and follow the old, unmistakably Roman road up onto the opposite plateau. Come back along the same path, or navigate your way around and back down to the village of Monastère, at the foot of Rodez, and find your way back up ~ good legs and two or three hours recommended for the circular route!
Seeing Aveyron
Of course, you you will want to get out and see the amazingly beautiful countryside and sites of Aveyron.
First, there is the Romanesque abbey and remarkably untouched medieval village of Conques (http://www.conques.fr/), once a major stopping point along the Saint Jacques Pilgrim Trail. Virtually all the houses and the footpaths between them date back several centuries, if not right to the Middle Ages. This town is a 45-minute drive, but the trip is nicely stretched out with stops at the waterfall and grotto in Salles la Source (café-restaurant and traditional profession museum on square above cascade), and the very southern-feeling village of Marcillac (market & difficult parking on Sundays).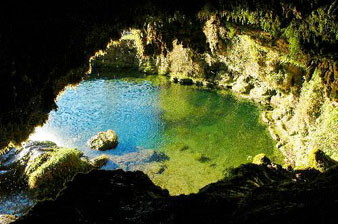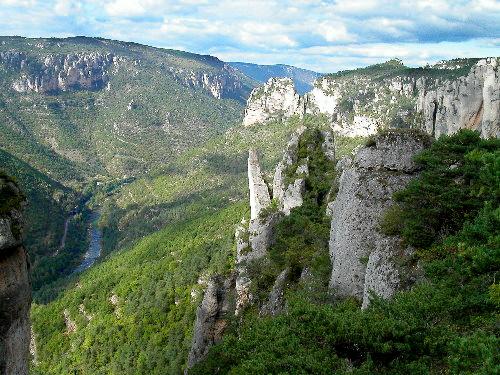 SALLES LA SOURCE GORGES DU TARN
The magnificent Gorges du Tarn continue to surprise even those of us who know them well. Drive along the river banks and see the outrageous rock formations and troglodyte villages. Hikes along the rocky limestone cliffs are unforgettable, and the sunny, smooth rocks and emerald waters of the Tarn are one of life's greater pleasures. Rafting, canoeing, kayaking and canyoning outfits are very popular here, and will set you up for reasonably-priced, safe fun. You can reach the first breath-taking sights in a little over an hour's drive from Rodez
And, of course, one might stop in Millau, Aveyron's second city, and an hour away and farther to the south, along the banks of the Tarn and near the gorges. This town is certainly better situated for discovering the sites of the Southern Aveyron (Roquefort caves, Templar Villages, Gorges du Tarn). But you can also come to Millau just to get a taste of its very Mediterranean feel, and the many old shops which have not changed for a century or so, as well as the surprisingly captivating high-fashion glove making museum.
The Aubrac plateau is an hour's drive and a wonderful place for hiking, wildflowers, and building up an appetite before settling into traditional cuisine in any of its beautifully rustic villages ~ try Aligot, if you like cheese & potatoes!. If you would like to eat at Michel Bras' renowned, star-studded restaurant near Laguiole (http://www.michel-bras.com/), you will need to reserve a month or more in advance. Also stellar (but wanting in décor), is Isabelle Muylaert-Auguy's restaurant in Laguiole, the Grand Hôtel Auguy.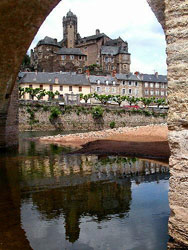 Estaing is a picture postcard village if ever I saw one, and a nice pretext for a tour of the Lot, its gorges and its fascinating villages. A good route would be via Bozouls, Estaing, Entraigues, and heading back either via Villecomtal or Conques. The section of the river between Estaing and Entraigues is quite busy in summer but extremely beautiful and of great geological interest. The tourist office of Rodez details such tours quite well on its site (see below).
Aveyron is inexhaustible. After eight years of living here, I have still only scratched the surface, but other sites include Belcastel, a remarkably-preserved medieval village with a fairy tale like castle with an excellent star-studded restaurant, Le Vieux Pont (http://www.hotelbelcastel.com), Bozouls, where you can sit at a café while looking down into the remarkable geological site where a raging river once passed, leaving behind a gaping bend. There are houses at the bottom and the village on top and an excellent restaurant, La Route d'Argent. Rodelle is another astonishing geological site and beautiful village, and worth seeing are the bastide, or charter towns, of Villefranche and Sauveterre de Rouergue (and Michel Truchon's starred restaurant, Le Sénéchal), Villeneuve or Najac, which once was a model for the "new towns" of the middle ages with their market centers and arcades.
The medieval ruins of the silver-mining town, Peyrusse le Roc are fascinating for romantics and historians alike, providing you have a good pair of legs. The still-inhabited part of the village is at the top, with simple restaurants (where I once had a wonderful plate of "estouffinade", salt-cod and potatoes). Walk down the steep paths, through the foundation ruins and you will see the old castle towers up on rocky peaks, and then come to down to a magical site, an overgrown, roofless cathedral, built into the cliffs, the magnificent ruins of an 18th century hospital and a river walk up to an unforgettable medieval footbridge. This is about 40 minutes from Rodez.
I have yet still to hike out on foot from the village of Mirabelle, but local friends urge me to do so, and I will.
Where to Stay and Eat in Rodez
As for where to stay in Rodez, I suggest one of two hotels in town: La Tour Maj (literally built –into the old city ramparts), or l'Hôtel Biney (http://www.hotel-biney.com/index.html). The Foche parking lot is very near both these hotels, as is the tourist office.
If you would like to try something more romantic, I suggest l'Hostellerie de Fontanges, which is a sumptuously refurbished castle and park, with restaurant, pool, next to a golf course, five minutes by car from the center. You can visit them on their site at:(http://www.hostellerie-fontanges.com/eng/index-eng.php3).
As for restaurants in Rodez center, I highly recommend Goûts et Couleurs (http://www.goutsetcouleurs.com/) for two-star cuisine at a reasonable price in an elegant and yet comfortable décor. La Taverne, close by, offers a wide variety of traditional plates at very reasonable prices and is quite enjoyable. If you're stuck here on a Sunday or a Monday, Le Kiosque is clean and comfortable, offers a wide variety of foods and is possibly the only restaurant open on those days. Warning: avoid all supposedly "Mexican" restaurants, no matter how popular they might appear.
[NOTE: Rodez is a lively little town, but you should plan on being elsewhere on either Sundays or Mondays, as almost everything is closed (even most restaurants!). If you are to be here over a weekend, it is best to discover Rodez on a Saturday, when it is at its bustling peak, and save Sunday and Monday for excursions into the countryside. I might also mention that it can occasionally be very windy, and on such days you might prefer to travel down into the warm valleys.]
---
For further information, please make use of the following links:

[Photos used in this feature are property of and copyrighted by Tom Smith-Vaniz - All rights reserved.
Map of Aveyron courtesy of the http://www.quid.fr web site.]
Tom is an American who lives in Rodez with his French wife and 3 children.
If you would like to contact him with questions about Rodez or the Aveyron,
please don't hesitate to write him at: thomas.smithvaniz@free.fr
Please visit his photo gallery of the Aveyron at:
http://www.pbase.com/tomsmithvaniz/postcardsfromaveyron



HEALTH, SAFETY & PACKING TIPS
What to take, what to know, and how to protect yourself from the unexpected.
During the eight previous years of publishing this newsletter, we have often covered the topics of health, safety and packing in regard to travel in France. We are going to revisit much of that information here, updating it as necessary, of course.
As one of the most advanced nations in health care (rated number one by the World Health Organization), travelers need never fear for their health while in France. Should they become ill or injured, excellent medical attention will be easy to find and at a surprisingly reasonable cost.
As for safety in France, once again we reiterate that France is a safe country for its residents and for tourists. Naturally, as with any other place you visit anywhere, you avoid areas that might have a high crime rate ~ there are such neighborhoods in any city in the world. Common sense must prevail. However, if you are a smart traveler, you won't become the target of crime. It's mostly up to you.
Packing is probably one of the most difficult tasks we undertake when we travel. We think we are packing only what we need for our trip, but we always discover that we've, once again, packed more than we will ever need or use. We do not suggest you take a backpack with one change of clothes! We suggest you pack a rolling suitcase with appropriate clothing for the activities you expect to enjoy while traveling. However, if you can get all those necessities into a small enough case to have it fit in your overhead airplane bin, all the more power to you. (Just remember those items considered as weapons in carry-on luggage, such as manicure scissors, a corkscrew, nail file, etc., must be packed in checked luggage ~ or leave them at home!) If, however, you want to take a small carry-on (the place for your unexposed film, by the way), and a larger rolling case to be checked, you will have a little more room for packing your clothes. But don't forget how, on your last trip, you promised yourself ~ as you were hoisting luggage onto a train or up and down steps of the métro ~ that next time you were going to take half as much! Do it! Take half this time. We're sure you'll survive.
The following tips might help with all the above concerns.
continued on page 6

---

previous page next page