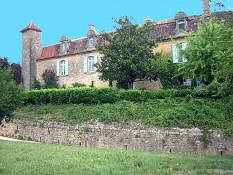 Le Prieuré au Château de Biron is a splendid retreat in the delightful little village of Biron in the Dordogne of France's southwest. Its American owners are eager to welcome guests in 2005 to their region where they can enjoy the local wines and cuisine, visit historic and prehistoric sites, and soak up the ambiance of one of France's most popular destinations. Rooms are spacious and luxurious, great meals can be enjoyed at the priory, and for Americans making their reservation by the April 30th deadline, the room rates will be € 1 = $1 for any 2005 stay.

Guests can take advantage of their hosts' expertise to learn about the nearby attractions, including visits to Bordeaux and its vineyards, the caves and dwellings of prehistoric man, or the many outdoor village markets dotting the region. Périgourdian cuisine will delight visitors for its uniqueness and rich variety of offerings. All in all, this is a great vacation spot!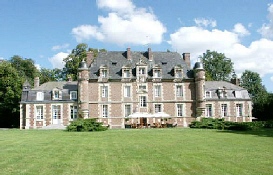 In the beautiful Eure département of Normandy you will find the exquisite Norman residence, Château La Thillaye. Steeped in history and set on nearly 68 acres of parkland, the château offers elegant guest rooms and divine cuisine. The château and park allow one to get away from life's daily stresses, and Americans will enjoy parity between the euro and dollar in 2005 on the price of their accommodations, paid in cash. Meals and beverages priced in euros can be paid by credit card.
The château is conveniently located near the Normandy landing beaches and other important sites of World War II, as well as the villages and attractions that make the region a tourist mecca. The beach resorts of Deauville and Trouville-sur-Mer, the picturesque channel town of Honfleur, the Norman ruins at Jumièges, and the city of Rouen with its medieval quarter and famed cathedral are all within easy reach.
We hope that this information will enable you to visit France in 2005 to enjoy all it has to offer without straining your travel budget.
[Photos copyrighted and courtesy of each proprietor.]


---
SPONSORING THIS ISSUE:

au Château is an award-winning web site offering travelers their choice
of lodging in more than 60 chambres d'hôtes and châteaux across France.
Whether you're seeking an historic and luxurious bed and breakfast or a grand and memorable
place to call you own for a family gathering, visit au Château by clicking on the above banner.
This beautiful web site will provide a perfect solution to all your accommodation needs.
[If you are interested in advertising in FRANCE On Your Own, contact advertise@franceonyourown.com]
---
FEATURING AVEYRON - France for the Hardy Traveler
Part of the Massif Central, the region known as Aveyron receives too little attention both
in travel guides and by tourists. In this issue, we would like to introduce you to this wonderful region
of France where travelers can enjoy a tranquil vacation surrounded by spectacular scenery.
The Aveyron is the source of several important French rivers, the Lot, the Aveyron and the Tarn, which traverse the rugged terrain through gorges and valleys, showcasing stunning villages perched on their cliffsides. Although hardly on the tip of one's tongue when discussing the French countryside, the Aveyron is nonetheless not to overlooked.

"Where is Aveyron?", you may ask. Well, it is département 12, and is larger than any of the départements surrounding it which include the Lozère, Hérault, Gard, Cantal, Lot and Tarn and Tarn-et-Garonne. It contains the Aubrac mountains, the Vallée du Lot and the Grands Causses, the latter being a vast and dry limestone plateau interspersed with lush, green valleys and fertile canyons. For hikers and outdoors people who like to be away from it all ~ literally ~ this is the perfect place!
The Grands Causses is more than a simple plateau, however. There are actually four causses: Sauveterre, Méjean, Noir and Larzac, reaching east of Millau and from Mende in the north to the valley of the River Vis in the south. Incredible rock formations can be found here, and they are named as though they represent ruined villages: Montpellier-le-Vieux and Nîmes-le-Vieux, to name two. Huge underground grottoes, Aven Armand and Dargilan Grotto, offer dramatic formations for viewing by visitors. But there are real ancient villages as well, such as La Couvertoirade in the Larzan Causse. This is a citadel of the Knights Templar, constructed in the 12th century, a place whose dwellings and rough lanes remind one of the middle ages at their most stark. There is an entrance fee to visit the village.
Perhaps the best known product coming from Aveyron is Roquefort cheese. The village of Roquefort-sur-Soulzon is its source, a small and dreary town with but one main street. The cold and damp caves above the village serve the purpose of aging the cheese, and a visit here will certainly give a different perspective about Roquefort than one might have had before.
Conques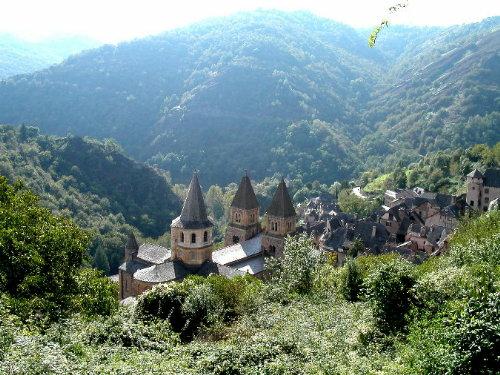 Conques is possibly one of the most famous small cities of Aveyron, well-known and frequently visited for its Abbey de Sainte-Foy. Along the route of Saint James de Compostela, the pilgrim route to Spain, Conques' abbey contains the most incredible collection of Renaissance and medieval gold work in all of western Europe. Some was created in the abbey's workshops as far back at the 9th century. Among the treasures are gold-plated relics encrusted with gemstones and crystal. A bejeweled statue of the Roman Emperor Caracalla is believed to be from the 5th century.
The abbey church is Romanesque dating from 1050 and under construction until 1135. The medieval sculptures adorning the church number some 250, one depicting the Last Judgment showing Christ in Heaven and the devil in Hell. The church cloister only has two remaining sections from the 12th century, but many of the carved capitals were preserved and can be found in the refectory and the Treasury II.
Oddly, and something we have mentioned in an earlier newsletter, the Gorges du Tarn is in the Aveyron and the Gorges du Aveyron is in the Tarn département. The Gorges du Tarn is dramatic, carved by the River Tarn for millions of years. The gorge itself is some 15 miles long and up to 2000 feet deep, flanked by rocky outcroppings and traced by roads that will make one dizzy by their bends and startling panoramas. Canoeing and rafting are popular pastimes at the gorges, with melting winter snows making the river rapids quite dangerous in the spring.
For those more into flora and fauna, the Causses Méjean might be the ideal destination. It boasts of over 900 species of wildflowers in the springtime and summer months, including wild orchids. This is also where one would find the Aven Armand caves with their stalactites in formations created by slowly dripping waters. Between the Causses Méjean and the Causses de Sauveterre is the village of La Malène, centered around a beautiful 14th century manor house. This is a starting point for boating on the river.
As one of the least populated regions of France, Aveyron is abundant in wildlife, both botanical and animal, including birds of prey like the Griffon vulture, rescued from near extinction and now flourishing in this wild landscape. If you are fortunate enough to spot one during a visit, you will be amazed by its eight-foot wingspan!
---
It's always of benefit to get an insider's point of view about France, and what could be
better for this feature than a contribution by someone living in Aveyron?
The following segment of our piece on Aveyron is as much a photo journey as an essay
focusing on Rodez and the surrounding region. It comes to us from Thomas Smith-Vaniz,
an American expat who lives in Aveyron with his French wife and three small children.
We know you will enjoy this first in the series of many articles from Tom.
Rodez – Metropole d'Aveyron
If you have the time and curiosity to venture off in search of Old France, then you will be well-rewarded by a trip to Aveyron, one of France's least known, best preserved and most beautiful départements. Nestled just south of the Massif Central, it is extremely diverse with lush valleys, deep gorges, rivers, brushy plateaus and high pasture lands. You will find countless medieval villages and the largest number of towns labeled "Plus Beaux Villages de France" of any département in France, and four major chefs!
A very pleasant way of getting to know Aveyron is by staying the town of Rodez, its capital and geographical center from which all of Aveyron can be reached by car in an hour and a quarter (though Millau is better situated for concentrating on the southern Aveyron). Rodez is seven hours by train or car from Paris, but only two from Toulouse. Ryan Air flies daily to Rodez from Stansted airport, in London.
Rodez is a medieval fortress town, situated atop a steep hill overlooking the Aveyron River and visible for many miles thanks to an enormous Gothic cathedral sculpted of sandstone. The people from here are known today as the "Ruthénois", or the "Ruthènes", a name once signifying a people who once worshipped the goddess "Ruth". They are said to have kinships with a people in central Europe, of what was until recently Czechoslovakia, who worshipped the same goddess. During the Middle Ages and up until the Revolution, the town was divided in two, with one half dominated by the clergy and oriented around "La Place de la Cité", and the other half inhabited by the merchants and bourgeoisie. The two halves had little to do with one another, and it is said that divisions and antagonisms were deep. Rodez has preserved a medieval atmosphere, and footpaths wend their way through the little houses and shops of the center. It is delightful to wander through the labyrinth of alleyways, as you can never really get lost. Shops range from the traditional (though rapidly disappearing) to more modern and surprisingly upscale ~ don't let the countryside fool you; Aveyron has a very solid bourgeoisie.
If you enjoy history and architecture, the Rodez tourist office offers guided tours of the town and cathedral in French, and audio-guide tours of the cathedral in English. Better yet, if you visit in July or August, you may have a chance to can tag along on one of the tours of the Cathedral belltower given by the Boy Scouts (!). They speak only French, but that's irrelevant; they have the keys and authorization from Bâtiments de France to take you up the winding, musty staircases into the towers and belfries and out on the roof of the Cathedral. Absolutely incredible! [Note: Do NOT do this if you are severely claustrophobic, do NOT expect to find handrails while crossing the nave in the dark at 60 feet… and do NOT forget your camera!]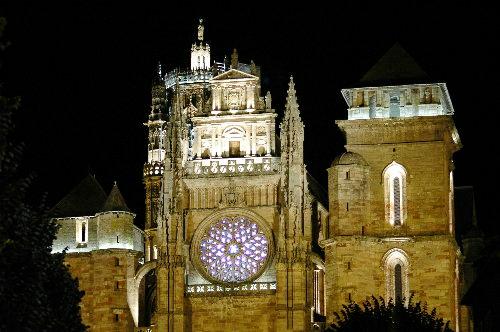 RODEZ CATHEDRAL - STAIRS AND VIEW AT NIGHT INCLUDING ROSE WINDOW
continued on page 5
---

previous page next page