IN THIS ISSUE:
A Franco-American Portrait
~ Sculptor Alfred Janniot
Paris Enigmas
Ici et Là
Gastronomy & France's Loire
Valley
by Corina Clemence
The Brame in Sologne
by Kristi Anderson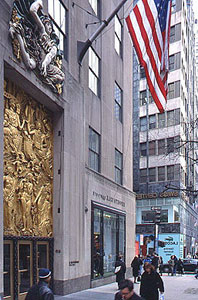 Maison de France, New York City
FEATURING Poitou-Charentes
A Visit to Senlis
~ A Great Place to Get Bogged Down
by Arthur Gillette
The Bookshelf:
~ The Paris Neighborhood Cookbook:
Danyel Couet's Guide to the City's
Ethnic Cuisines

Sculptor Alfred Janniot - A Trans-Atlantic Art Déco Giant
by Arthur Gillette
Alfred Auguste Janniot was born in 1889 to a modest Montmartre family. His father was a barber/hairdresser, and some of his manual shape-modeling ability may well have rubbed off on the youngster who, from the age of eight, enjoyed crafting little plaster figurines.
Admitted to the Paris Beaux Arts School at age 18, Janniot had to interrupt his studies for front-line military service during World War I. But once demobilized, he entered and tied for the prestigious Prix de Rome competition that enabled him to spend several years at the renowned Villa Médicis in Rome, where ~ lodged and boarded ~ he was able to study at leisure classical and Renaissance works with which the Italian capital overflows. It was then and there that he acquired a taste for the classical tradition of joining architecture and sculpture with a monumental flair, a link that was to become his trademark.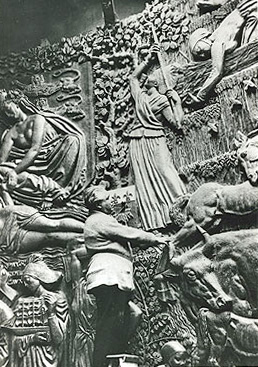 One requirement of Prix de Rome laureates was annual submission of a work created by them. One of Janniot's (1922) was a decidedly Greco-Roman, neo-classical and chubby Eros, which gained him a certain notoriety.
Janniot returned to France in 1924, having been awarded a commission for the stunning Monument aux Morts (Monument to the War Dead) in Nice, and just in time to take part in the 1925 Paris International Decorative Arts Exhibition, which gave the angular Art Déco style decisive visibility and popularity.
A first trans-Atlantic and decidedly modern dimension entered his work in 1927 when he was entrusted with part of the interior decoration of the luxury ocean liner, Ile de France, which specialized in whisking thousands of passengers to and fro between New York and Le Havre. Eight years later, he executed a massive gilt fresco for the banquet hall of that other trans-Atlantic jewel, the Normandie. Gracing the liner's banquet hall, it represented the province of Normandy along the Seine Valley between Paris and the Channel.

Janniot at work on the Normandie fresco
Art Déco's heyday, the 1930s, saw evermore commissions for Janniot. In Paris alone, for example, he created (1) bas-reliefs for the 1,200 square meter façade ~ the largest frieze in Europe ~ of the National Museum of African and South Sea Arts (1931, later renamed Colonial Museum, and recently re-inaugurated as the City of Immigration History), (2) mural bas-reliefs to enliven the rather austere Tokyo Palace (1937, Paris Museum of Modern Art) and, the same year, (3) worked at the Palais de Chaillot. The 1934 Sun Fountain in Nice was perhaps his major provincial creation.
continued on page 2
---