A Great Place to get 'Bogged Down'
by Arthur Gillette

In October of 2007, some of us from FRANCE On Your Own were fortunate
to join Arthur Gillette on one of his historic explorations outside of Paris ~ a visit to Senlis.
Following is an article he wrote for this publication prior to our visit.
We encourage you to discover Senlis for yourself ~ or much better yet, with Arthur!

'Senlis' comes from silvanectes – 'people of the forest' ~
strange ancestry for such an early and still-thriving city.

Forty-four kilometers northeast of Paris is Senlis, a town whose 2,000+ years offers an architectural and archaeological layer cake. Check, for example, the Museum of Art and Archaeology. Its deepest crypt boasts the remains of a Gallo-Roman settlement dating back to 100-200 A.D.; just above, lengths of the town wall, hastily erected at the end of the third century (with sculpted stones re-used from earlier monuments) when those nasty Barbarians ~ including the Franks ~ threatened; higher, the 13th-century bishopric's underground chapel erected against the Gallo-Roman rampart. To build a chapel you need four walls, right? If you've already got one, why tear it down?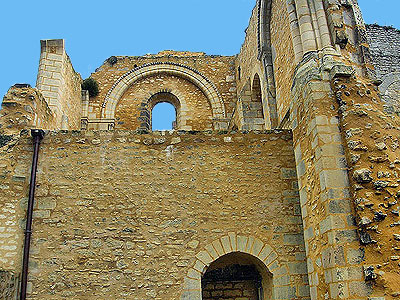 Remnants of Roman ruins can be found in Senlis
In fact, that town wall, surrounding a castrum (camp) of some eight hectares, was never systematically demolished. You can wend your way easily around the town perimeter as it was was seventeen centuries ago. Talk about a treasure hunt! Once the Franks had taken over and created the duchy-kingdom of France, the game-abounding countryside around Senlis became a favorite hunting ground and the town a regular royal séjour.
The last of Charlemagne's line, King Louis V, died in a hunting accident here. The Frankish barons immediately assembled at Senlis in 987 and elected Hugues Capet their King. Thereafter, it flourished as a Capetian stronghold/resort and was regularly visited by monarchs until Henry IV, around 1600.
Hugues' Queen Adelaïde built a 10th-century chapel whose vestiges can be seen beneath the 12th-century St-Frambourg church, now the Cziffra Foundation's concert hall.
In the early 1100s, Louis VI (The Fat) revamped the royal palace, today an archaeological park. A century later Paris wall-builder King Phillip Augustus put up new town ramparts, enclosing some 44 hectares ~ almost one third his Paris' intra muros size. Philip Augustus's mid-13th-century grandson, (Saint) Louis IX donated a monastery, followed by 14th-century Bastille-builder Charles V's further modifications, and so on. Well-preserved vestiges are to be found everywhere, within easy walking distance from each other.
The End was Nigh!
Luckily, Senlis was successfully defended in 1918 by Maréchal Foch and Général Weygand, who only left their headquarters here to take the German surrender. Shell-damage occurred, but the centre ville still overflows with well-maintained vestiges of two millennia, ranging from above-mentioned remains through amusing figurine-adorned Renaissance townhouse façades ~ even some 17th century magnificence ~ to a snitch-or-two of billowing Baroque.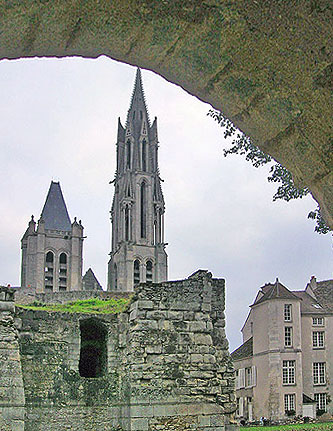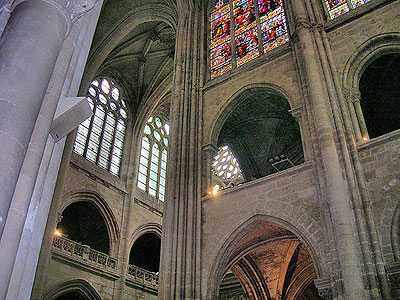 Cathédrale de Notre Dame de Senlis' steeples tower over ancient ruins The Interior of the Cathédrale

Let's not forget the Notre Dame Cathedral which was begun in 1153, ten years before Notre Dame de Paris, and consecrated in 1191, also well ahead of its younger Parisian sister. Its western (main) tympanum shows Mary and Jesus side-by-side, almost as equals ~a (the?) first major appearance of the cult glorifying Mary in France. Why this somewhat-sudden adoration of The Virgin?
Toward the end of the first Christian millennium, according to specialists, people feared that The End was Nigh! (Remember 'The 1999 Bug'?) Marauding Vikings' 9th-century-invasions gave credence to that fear. King Charles-le-Simple ~ not so 'stupid' as that ~ did a deal, leaving Normandy to them in exchange for their no longer ransoming/attacking the Frankish Kingdom. Lo and behold, peace returned! Who, in the Christian panoply, symbolized peace, goodness, gentleness?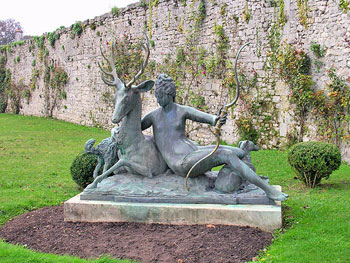 The town prospered in the 13th century, and the Cathedral gained a high-Gothic transept under Saint-Louis in the mid-1200s. A fire in 1504 resulted in further additions, including François I salamander coat-of-arms ~ fearing neither water nor fire, that animal is simply forever.
After a recent Senlis visit, truly frustrated by lack of time to see more, I remarked to my wife, "Hey, this would be a great place to get bogged down!"
"Huh?", she shot back quizzically.
"Why, yes," I said, 'to-get-bogged-down' in French is... s'enliser."
Quoth she, unamused, "Ouch."

Statue of Diana in le Jardin du Roy, Senlis


---
Getting There from Paris:
· By car – take the (toll) Autoroute A-1 or the toll-free Route Nationale 17 about 30 minutes from the Porte de la Chapelle.
· Public transport – RER B line to Roissy, then bus or TER train from Gare du Nord to Chantilly, then bus to Senlis.
Eating/Sleeping:
· Breakfast, lunch, tea: La Closerie, 7 Place St-Pierre – with terrace adjacent to the Gallo-Roman rampart. English spoken.
· A plenty-caractère inn: Hostellerie de la Porte Bellon, 51 rue Bellon - lovely terrace, breakfast/drinks in a Gothic cellar, granted
« Three Chimneys » by the Gîtes de France. English/Spanish spoken. Web site: www.portebellon.com
· Wine cellar (13th century) with evening cabaret entertainment: Cave Augustomagus, 56 rue Vieille de Paris. English... mostly sung.
Getting around:
· For me, hoofing it is easiest and best. But,
· you can rent a bike, and/or
· take a calèche (horse-drawn carriage for a 35-minute tour), and/or
· jump aboard the free minibus-shuttle (navette).
· Senlis: Royal City, a map/guide to four strolls, is available free at the Office de Tourisme (facing the Cathedral's main portal).
More Info, partly in English:
· Office de Tourisme: www.tourisme.fr/office-de-tourisme/senlis.htm; Email : contact@senlis-tourisme.fr A brochure Senlis : 2000 Years of Architecture and History is available for 6€ (+ postage).
· Municipal Web site: www.ville-senlis.fr
* You can also have Arthur guide your day trip to Senlis, having brought you there by car,
and/or check out the 16 strictly personal historic strolls he guides to help discover Paris Through The Ages.
For more information: Armedv@aol.com
[Photo credits: Cold Spring Press. Copyright 2007-2008. All Rights Reserved.]




THE BOOKSHELF:

The Paris Neighborhood Cookbook: Danyel Couet's Guide to the City's Ethnic Cuisines

a book by Danyel Couet with photography by David Loftus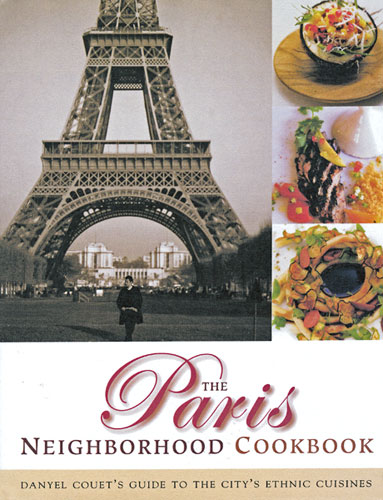 We are very fortunate to receive about-to-be or newly-published books about France for review throughout the year. We don't tell you about them all, but we never miss the opportunity to write reviews of the good ones, and this book is definitely one of those!
First impression: The book is gorgeous! We can credit well-known food photographer David Loftus for his amazing photos of the culinary creations, but his skill in capturing street scenes, Parisians (both adults and children), and shops and restaurants make this an even more stunning book. Credit must go to the graphic designers as well for bringing it visually together so beautifully. When you buy this book for yourself (and we are saying 'when' not '' if') and you decide to make one of its delicious recipes, you will want to protect it so as not to mar a single beautiful page with any of the ingredients!
Now to the book's contents: The author and chef provides an excellent array of intriguing recipes and nicely arranges the book in categories and quarters of the city to include the African, Arab, Jewish, Greek, Indian and Asian quarters, as well as Bistro (French) Food and Markets & Street Food. A four-page Recipe Index begins on page 260, and the notation at the top of the page tells us that all recipes are for 4 people unless otherwise noted, making it simple to cut a recipe in half for two or double it for eight.
Most of us traveling to France can't wait to spend every mealtime in a French restaurant...there are so many wonderful ones to explore and enjoy. But, we mustn't forget that Paris is quite international, and there are a great many restaurants offering ethnic food worth trying. The Paris Neighborhood Cookbook's author, Danyel Couet, a Michelin-starred chef in his own right (his restaurant happens to be in Stockholm, Sweden), has opened the door for us. He was looking beyond his grandmother's Parisian cooking to see what he could find, and this book takes us along on his journey through what is offered in those diverse neighborhoods. Each chapter begins with his thoughts on the food, the ingredients and the enjoyment of the wide variety of dishes to be found. The author does not mention nor recommend individual restaurants, but one page, Places to Visit, lists the streets in various ethnic neighborhoods where one can find restaurants, markets and food shops.
Every recipe (there are over 90) is accompanied by a full page color photo, and the recipe itself takes the opposite full page. None is longer, so each one is simple to follow and easy to do at home ~ and the photos make the dishes very appealing. The cookbook is very well-organized, and we are sure it will become a favorite in kitchens around the world. The Paris Neighborhood Cookbook is for the person who loves to entertain but not spend days in the kitchen preparing a meal. But even more than that, it is a wonderful and informative photographic journey through Paris with Danyel Couet through the camera lens of David Loftus.
Click on the Amazon Link to order yours today!
The Paris Neighborhood Cookbook: Danyel Couet's Guide to the City's Ethnic Cuisines is published by
Interlink Publishing Group, Inc., 46 Crosby Street, Northampton, MA 01060-1804
ISBN 978-1-56656-723-7 http://www.interlinkbooks.com

---

DISCLAIMER: You have received this newsletter because your email address is on our Opt-In mailing list, i.e., you have requested to receive FRANCE On Your Own ©. If you would like to discontinue receipt of this newsletter, please send an email to publisher@franceonyourown.com with "unsubscribe" on the Subject line.

Unless indicated otherwise, photos, graphics, artwork and text in the FRANCE On Your Own © newsletter are all the property of Cold Spring Press and FRANCE On Your Own © and cannot be copied, duplicated or used in any manner by anyone without the express written permission of Cold Spring Press. FRANCE On Your Own © is published online by Cold Spring Press, P O Box 26098, San Diego, California 92196-0098. This publication is copyrighted and no portions of the text, artwork, graphics or photographs may be reproduced or distributed in any form or by any means or stored in a database or retrieval system without the written permission of the Publisher. For more information about FRANCE On Your Own ©, visit our web site at http://www.franceonyourown.com.

Recommendations made in this newsletter are based upon the personal experiences of the Publishers or contributing writers solely to provide information to subscribers. Cold Spring Press and FRANCE On Your Own © make no endorsements nor are any guarantees or promises of satisfaction given or implied. Any and all information is correct to the best of our knowledge, and the Publishers accept no responsibility for errors and/or omissions. The responsibility lies entirely with the traveler to obtain current information regarding accommodations, availability, schedules, prices, reservations, or any other pertinent details. We do not guarantee the historical accuracy of the contents of articles in this newsletter. Historical accuracy is dependent upon one's sources of information -- and contradictions often exist among those sources. Links to other web sites or email addresses are provided for informational purposes only and do not imply any guarantees of service or endorsement of any organization or their business practices.

FRANCE On Your Own © is electronically transmitted via email. To add your email address to our database for this FREE newsletter, send an email to info@franceonyourown.com, and please put Subscribe in the subject line. We do not share email addresses with any other organization.

BACK ISSUES of the print version of FRANCE On Your Own © are available on our web site at http://www.franceonyourown.com/Archives.htm.

©1998-2008 Cold Spring Press All Rights Reserved

---

previous page