IN THIS ISSUE:
An Architectural View of France
Paris Enigmas
Ici et Là
~ Peace Treaties Commemorated
A Brand New Medieval Château
Near the Loire Valley
by Arthur Gillette
Petite Pleasures...Paris by Heart
by Maxine Rose Schur
Le Corbusier
by Florence Chatzigianis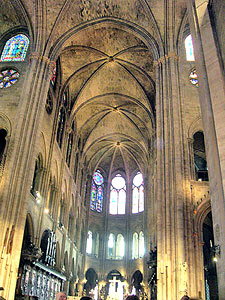 Notre Dame de Paris
The Influence of Charlemagne
by George Ohanian
Romanesque to Renaissance
~ Defining Architectural Styles
by George Ohanian
Other Architectural Styles
in France
The Bories of France
~ Dry Stone Architecture

One of the most appealing aspects of visiting France is experiencing the many distinct periods of architecture ~ from the engineering feats of the Romans and those structures and ruins that France has preserved so very well, to the Parisian impact of Baron Haussmann, and all that came between and that which came later. There was the Medieval period of Romanesque simplicity followed by Early Gothic ~ France's distinct and graceful contribution to architecture ~ and then came variations on Gothic including Flamboyant Gothic, followed by France's own adaptation of Renaissance, then Neoclassicism and more recently Art Nouveau, Art Déco and modern. Architecture in France is an integral part of its history, each style expressing the spirit and meaning for its time, and each telling its own story.

This edition of FRANCE On Your Own, focusing on French architecture, will hopefully provide some insight into the history and purpose behind the diverse styles of the buildings you might find on a visit. Several contributors have written articles that may give you inspiration for your next trip, as well as let you in on some lesser known architectural destinations to add to your itinerary as you travel in France on your own.

Very interesting is A Brand New Medieval Château, a discovery of Arthur Gillette, who has provided us with a fascinating look into a project that is the realization of one man's dream. No less interesting is a visit to the Riviera's Cap Martin, a location loved by architect Charles Edoard Jeanneret, known to the world as Le Corbusier and to many in art and architecture simply as 'Corbu'. It was here that he lived in his later years, and it was here that he died. We hope you enjoy Florence Chatzigianis' recounting of those times.

And, in a slight departure from established architectural design, we will introduce (or re-introduce) you to the borie ~ a unique and enduring building found not only throughout France but in many countries of the world. Of course, our focus is on the French examples.

Several years ago, when this newsletter was a print publication, we had a feature on French architecture which we are revising for this issue: Romanesque to Renaissance ~ architecture as it transitioned through the centuries through new ideas, new requirements of the people and new artistic creativity.

There will be no regional feature in this edition of FRANCE On Your Own, but we will return to that format in our August issue. Instead we want to devote this newsletter to those beautiful buildings and monuments found everywhere in France, from small village churches in pure, simple Romanesque style dating to the 12th century, right up to the decorative flourishes of Métropolitan signs in fabulous Art Nouveau style. There is such a wealth of design found throughout the country, and it all plays a part in why France remains the number one destination of travelers year after year.

Not to neglect Paris, this issue will take another look at this inspiring city through the eyes of Maxine Rose Schur and her series Petite Pleasures ~ this one entitled, Paris by Heart. And, of course, our regular feature Paris Enigmas will test your knowledge of the city with the help of Arthur Gillette, our expert on Paris and its history.

We hope you enjoy this special issue and that it brings an appreciation of the incredible variety of architecture found in France. When visiting France again, perhaps you will see it all with new eyes and a brand new perspective.

Bon voyage!

---