France has made a significant contribution to architecture, most notably its own innovation called 'Gothic'. Architecture in France can be traced to before the time of Christ. Functionality was always the prime consideration ~ many were engineering masterpieces ~ but architectural form in France also had an important influence. It evolved over the centuries into distinct styles. Architecture was as much purposeful as it was an artistic expression.

The earliest examples of architecture in France are Roman, and, as we said on page one of this newsletter, the French can be justly proud of the concerted effort they have made to preserve and protect these fine and valuable treasures. We cannot stress this enough, as we believe France as a nation has done more than others to treasure and protect the vast wealth of historic riches from those who came before, going back as far as the prehistoric sites that exist from Brittany to the south. More examples of well-preserved Roman architecture can be found in France than in any other European country, followed by Medieval, Romanesque, Gothic, Renaissance, Baroque and the more recent architectural periods in French history that are as interesting and pleasing. We don't cover every architectural period here, but we bring you some examples of the most familiar in addition to those mentioned in Romanesque to Renaissance.

Roman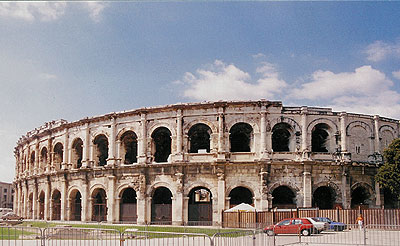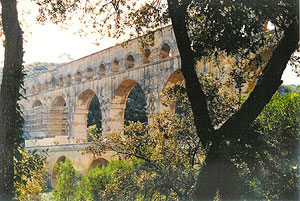 The arena at Nîmes, built at the end of the 1st century BC, The Pont du Gard aqueduct was built
is the best preserved Roman amphitheater in the world in the 1st century AD to carry water to Nîmes
The Romans were engineers and may have been the best builders of all time. The created functional as well as decorative structures such as aqueducts, roads and monuments.
---
Medieval
Perhaps the most intriguing period of architecture for those who don't live in Europe is the vast Medieval period that followed the Dark Ages ~ a time of extensive construction of fortress buildings: defensive structures needed during the centuries of wars, battles and conflicts. These are the buildings with arrow slits, often surrounded by moats or having drawbridges, and always with sturdy towers and small windows. This design style overlapped with Romanesque and Gothic, which were both preferred for religious buildings. The Château de la Vigne in the Cantal, shown here, is today a wonderful chambres d'hôtes. It was begun in the 1400s when the architecture of the Renaissance was flourishing in Italy but had just begun to see the light of day in France.


---
Baroque
During the reign of Louis XIII, Louis XIV and Louis XV, Baroque architecture became popular in France for rather grand structures ~ architecture borrowed from the Italian Baroque but that was decidedly French. Two excellent examples are the Château at Versailles and Paris' Luxembourg Palace and Gardens.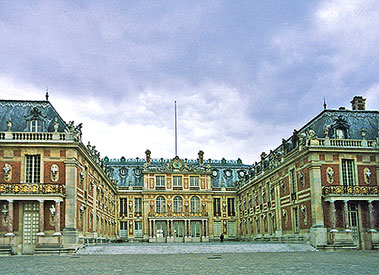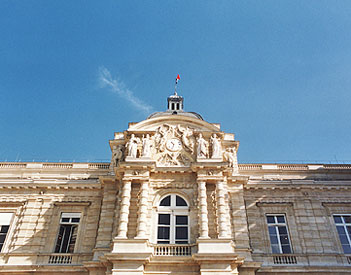 Baroque architecture can be seen at the Château de Versailles and the Luxembourg Palace in Paris
---
Neoclassical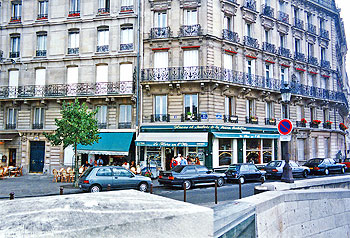 Neoclassicism was first expressed in the style of Louis XVI, an example of which is the Petit Trianon. The Directoire style came later, along with Empire, and a perfect example of Directoire is the massive Arc de Triomphe in Paris designed by architect Jean Chalgrin in 1806 during the time of Napoleon I who had a major boulevard built aside the Tuileries Gardens. Later, during the Second Empire and the reign of Napoleon III, Baron Haussmann, a French administrator and planner, was commissioned to design a city with long, straight boulevards to make it easy to maneuver an army and get services to its burgeoning population. In addition to this massive undertaking, which included bridges, monuments and parks, buildings were constructed in what is today known as 'Haussmann' style' ~ street after street of horizontal lines of stone block buildings with iron balconies that define much of Paris, an example of which is shown in the photo above.

---
Art Nouveau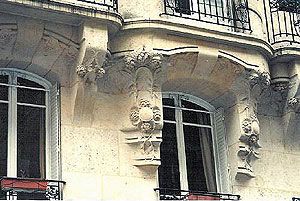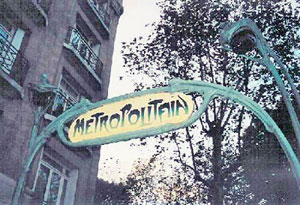 This Parisian apartment window is lavishly framed in Art Nouveau style,
while this memorable sign is one of many unique Art Nouveau Métro signs in Paris.
Asymmetrical in design, with plants and animals used prolifically, Art Nouveau began at the end of the 19th century and carried over into the twentieth century. Hector Guimard was France's specialist in this design form and is responsible for many buildlings in Paris, the very attractive Métro signs, and buildings in other regions of the country. Curvilinear, sensual forms were the hallmark of Art Nouveau art and architecture.
---
Art Déco

After World War I Paris and New York became entwined in the new artistic expression called Art Déco. From New York city's Rockefeller Center and the stunning spire of the Chrysler Building to the many Art Déco buildings in Miami's South Beach, we are reminded in the U.S. of this enduring design style.
In Paris there are Art Déco interiors in many of the Parisian restaurants and brasseries ~ the style was all the rage in the late 1920s and during the 1930s. After all, the Paris Exposition Internationale des Arts Décoratifs et Industriels Modernes of 1925 gave the movement its name ~ although it took nearly three decades for the term 'art déco' to come into common use. Up until that time it was usually referred to as style moderne. In Paris, Art Déco residential buildings became popular for their architecture ~ spacious rooms and lots of light ~ not necessarily for their artistic appeal. Symmetrical, and influenced by cubism and geometric shapes, Art Déco, whether in the decorative arts or architecture, always seems refreshing and new. Perhaps the best example in Paris is Cinema Rex, which also has the distinction of seating more moviegoers than any single screen cinema in the world.



---
Twentieth-century Modern
Modern & Magnificent Montpellier
France has its pockets of modern architecture, quite honestly not all of it is appealing or even uniquely French. But, one can certainly find many buildings that are quite memorable and well done. Here we show you the work of Spaniard Ricardo Bofill in Montpellier and La Grande Arche at La Défense in Paris by von Spreckelsen.
Antigone's design, often referred to as 'neo-Greek' architecture, was most likely influenced by the young architect's time in Greece where he spent time with his father at the age of sixteen. Antigone was a long project for Bofill, from 1978 to 1992, as he both designed and built the buildings. During that time he also designed and built the Place du Nombre d'Or, also in Montpellier, between 1979 and 1984. The architect has a long list of projects throughout the world, many of which are in France.
The Arche at La Défense was designed by Danish architect Johann Otto von Spreckelsen as an entry into a contest conceived by French President François Mitterand. Unfortunately, the architect died two years before it was completed in 1989, but the project was aptly completed by French architect Paul Andreu. It was designed as a monument to humanity and humanitarian ideals ~ a modern version of the Arc de Triomphe without any military overtones. In fact, it is officially called La Grande Arche de la Fraternité.
[Photos copyright Cold Spring Press 2008. All rights reserved.]

BORIES . . . practical rural architecture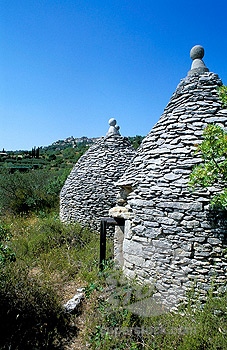 Built from dry stone, the borie is most commonly seen on farms or in meadows where livestock graze. Often a shelter for shepherds, bories have been used for other practical purposes, as they are built easily and without mortar. One requirement, of course, is to have stones, so bories can be found where the land is rocky. When stones needed to be cleared away, it made good sense to put them to use. Bories can be found in some form in many countries.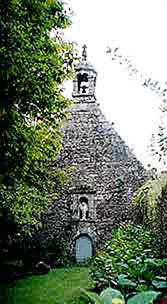 This practical rural type of construction has been known in France dating to the Ligurians in approximately 600 BC up to Roman times. But, bories have been built in modern times as well, as is evidenced by the more elaborate form serving as a chapel at Château de Talhouët. From the ancient ones found in Provence and elsewhere in France, it certainly seems that they last forever ~ much like the dry stone walls found on many rural roads and country lanes throughout France.
Borie is from the Latin word ' boaria ' which is a stable for oxen. Costing practically nothing to build because the stones were lying on the ground begging to be used, the borie could have been a tool shed, a shepherd's shelter or a barn. Some have been built large enough to be a retreat for modern-day folk who wanted to get away for a day or two.
In the Luberon of Provence, there is a village ~ Le Village des Bories ~ which is a classified historic monument. There are some thirty dry stone structures in simple shapes, some even have vaulted ceilings. Their simplicity is only part of their charm ~ what is even more astounding is that these mortar-free buildings are so enduring.
Visit http://www.avignon-et-provence.com/luberon/village-des-bories/gb/ to take a virtual visit of the village and see its timeless bories for yourself.
[Photo credits: Bories in Provence, unknown. Chapel at Château de Talhouët copyright 2008 Cold Spring Press. All rights reserved.]

---
DISCLAIMER: You have received this newsletter because your email address is on our Opt-In mailing list, i.e., you have requested to receive FRANCE On Your Own ©. If you would like to discontinue receipt of this newsletter, please send an email to publisher@franceonyourown.com with "unsubscribe" on the Subject line.
Unless indicated otherwise, photos, graphics, artwork and text in the FRANCE On Your Own © newsletter are all the property of Cold Spring Press and FRANCE On Your Own © and cannot be copied, duplicated or used in any manner by anyone without the express written permission of Cold Spring Press. FRANCE On Your Own © is published online by Cold Spring Press, P O Box 26098, San Diego, California 92196-0098. This publication is copyrighted and no portions of the text, artwork, graphics or photographs may be reproduced or distributed in any form or by any means or stored in a database or retrieval system without the written permission of the Publisher. For more information about FRANCE On Your Own ©, visit our web site at http://www.franceonyourown.com.
Recommendations made in this newsletter are based upon the personal experiences of the Publishers or contributing writers solely to provide information to subscribers. Cold Spring Press and FRANCE On Your Own © make no endorsements nor are any guarantees or promises of satisfaction given or implied. Any and all information is correct to the best of our knowledge, and the Publishers accept no responsibility for errors and/or omissions. The responsibility lies entirely with the traveler to obtain current information regarding accommodations, availability, schedules, prices, reservations, or any other pertinent details. We do not guarantee the historical accuracy of the contents of articles in this newsletter. Historical accuracy is dependent upon one's sources of information -- and contradictions often exist among those sources. Links to other web sites or email addresses are provided for informational purposes only and do not imply any guarantees of service or endorsement of any organization or their business practices.
FRANCE On Your Own © is electronically transmitted via email. To add your email address to our database for this FREE newsletter, send an email to info@franceonyourown.com, and please put Subscribe in the subject line. We do not share email addresses with any other organization.
BACK ISSUES of the print version of FRANCE On Your Own © are available on our web site at http://www.franceonyourown.com/Archives.htm.
©1998-2008 Cold Spring Press All Rights Reserved

---

previous page