ABRI PATAUD [Les Eyzies-de-Tayac, Périgord Noir] - Perhaps not well known to tourists, this site provides evidence that Cro-Magnon man occupied it many times between 35,000 and 18,000 BC. The three periods of settlement in that timeframe are known as Aurignacian, Périgordian and Solutrean. The excavation work revealed layers to a depth of about 30 feet, and artifacts were extracted which are on display at the site museum. On the ceiling of the rock shelter in the museum is a bas relief of an ibex in remarkable condition dating back to the Solutrean period around 17,000 years BC.

---
LA MADELEINE [Tursac, Périgord Noir]- As mentioned at the beginning of this article, this site gave its name to those artistic people, the Magdalenians. Excavated in 1928 by Denis Peyrony and Dr Capitan, this is a troglodyte village whose dwellings have been occupied from prehistoric times through the Middle Ages and into the 20th century! It is said that prehistoric man lived in the paleolithic site by the river from 12,000 to 8,000 BC, and modern man occupied the troglodyte dwellings up higher in the cliffs from medieval times. In the 15th century, a chapel was built precariously on the cliffside, at the same time a castle was built for defense, the ruins of which remain today on the plateau above the chapel.
---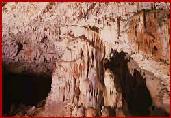 LA GROTTE DES MERVEILLES [Rocamadour, Lot/Haut Quercy] - Although famous for the town's cliff-hanging position and as a pilgrimage site, Rocamadour is also home to la Grotte des Merveilles, discovered the 16th of October 1920 and classified as an historic monument in May of 1925. It is only 100 meters distant from the town's tourist office, and visitors will appreciate beautiful rock formations and paintings created nearly 20,0000 years ago. The cave art was accomplished by the light of stone lamps burning animal fat, and the art itself is that of horses, stags, bear and traces of human hands.
---
PARC ARCHÉOLOGIQUE DE BEYNAC [Beynac, Périgord Noir] - This outdoor museum, open from mid-June to mid-September each year, offers visitors a glimpse into the lifestyle, vocations and crafts of peoples living in the Beynac area from 6000 BC to 50 BC, ~ they say from the Néolithique to the Gaulois. Iron-age implements, a forge, a pottery, greniers built on stilts to store grain, and much more depict the agricultural society of those times. All efforts have been made to re-create the structures and the artifacts very authentically. The making of bronze wares and implements, pottery-making, the cultivation of plants, fire-making techniques, and much more are demonstrated for visitors.
---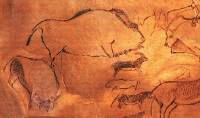 NIAUX CAVE [Niaux, Ariège] - Back in the Summer of 2000, this newsletter featured an article by Kim Chevalier on her visit to the Niaux Cave. The main attraction is the Grand Atelier containing the reproductions not only of cave drawings but also a replica of children's footprints in the floor of a cave not open to the public. Another interesting feature is a model of the main passageways and chambers of the cave with human figures to give it scale. The Salon Noir, the largest chamber, brought silence to the visitors because of the superb drawings of bison, reindeer, ibex and horses ~ another magnificent site to bring us closer to the history of humankind.

OTHER PREHISTORIC SITES: We aren't going to list all 142 French sites, 24 of which are open to public viewing, but others to consider visiting are
Combarelles (in Les Eyzies-de-Tayac) caves and engravings
Font de Gaume (in Les Eyzies-de-Tayac) caves and paintings
St Cirq du Bugue - cave of witches, engravings, museum
Grotte du Grand Roc - caves and abysses
Gouffre de Proumeyssac - abyss
Grotte de la Halle (Domme) - cave [open only on specific days]
Museum: in Le Bugue the Musée de Paléontologie
Grotte de Peche Merle (Lot)
[Photos courtesy of each site's information office. All Rights Reserved]


FRENCH WINE REPORT:
Weekend at a Bordeaux chateau with gentleman winemaker Patrick Maroteaux
by Panos Kakaviatos for FRANCE On Your Own
Driving along the route des châteaux among the great hilly vineyards of Bordeaux's Left Bank, a signpost just before the centrally located appellation of St. Julien welcomes you with a hearty Salut! Many wine writers note that St. Julien is also centrally located in terms of taste – the quintessential Left Bank Bordeaux, combining the more robust style of Cabernet Sauvignon-dominated wine just several miles north in Pauillac with the silkier, more elegant Cabernet-dominated blends from the Margaux appellation to the south.
One of the first châteaux you see on your left, atop a hill just after passing the signpost in St. Julien, is Château Branaire Ducru, classified a "fourth growth" in France's historic 1855 classification of Bordeaux Left Bank wines. The Left Bank alludes to the strip of land to the left of the Gironde River known as the Médoc, itself a larger appellation, which includes Margaux, St. Julien, Pauillac and St. Estephe. While most all Bordeaux wine is mainly a blend of Cabernet Sauvignon and Merlot, the Left Bank tends to favor Cabernet Sauvignon.
On assignment to write about France's current wine crisis and how Bordeaux has been reacting to it, nothing prepared me for the warm welcome I received from Branaire Ducru director and co-owner Patrick Maroteaux who, with his wife Evelyn, planned an action packed weekend for me.
The first thing we did upon my arrival one Friday evening in early September was eat a sumptuous feast of tournedos de boeuf at the Lion d'Or in Arcins, just outside of Margaux, where every château has its stock of wine – and most customers bring their own.
The French daily Le Figaro had just written an article about chef Jean-Paul Barbier, who greeted us with his wife, Michelle (Mimi). They were in good spirits, though he talked somewhat bitterly about how too many young people in the restaurant industry see their work more as a laborious chore rather than as a noble profession.
We enjoyed two fine vintages of Patrick's wine with the dinner: a 1998 Branaire Ducru (a bit tight, but full of character), followed by a just opening and finely textured 1996. The meal began with a foie gras, with toasts, which was delicious. The tournedos were savory with the béarnaise sauce, and I particularly enjoyed the fricassee de ceps, as the cep season had just begun, Patrick explained.
Patrick stressed that Barbier's restaurant, based on simplicity, is one of the most widely visited in Bordeaux (the main space features a lovely wooden case along the wall, with glass encased compartments where chateaux store their wine for dinner at the restaurant (Pichon Comtesse, Ducru Beaucaillou, Latour, Branaire Ducru, among others).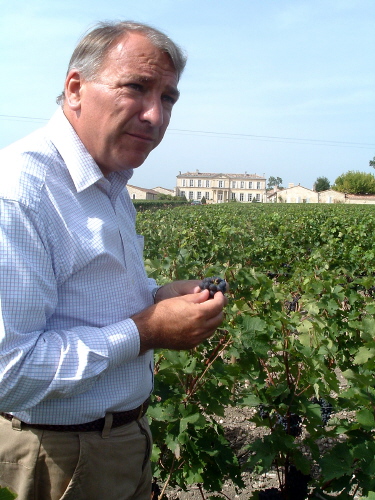 Breakfast Saturday morning at the elegantly spacious neo-classical château, built largely in the early 19th century, included a tasty confiture de la pêche de vigne made by Jean-Paul Barbier and a homemade confiture de la fraise de bois by Evelyn. Patrick and Evelyn then drove me to the local Pauillac market to prepare a lunch of freshly fished oysters and a lovely veal steak with string beans and steamed cauliflower. We also bought some fresh bread at a local bakery owned and run by the owner of another famous winery in Pauillac, Château Lynch Bages.
We began lunch with a crisp dry white Sauvignon Blanc from the Médoc – rather rare as most all châteaux there make red wine. But Les Arums de Lagrange, from another St. Julien winery, Château Lagrange, went very well with the first course of shucked oysters and small estuary shrimp, spiced with anise and which looked more white than orange, because of the largely fresh-water environment from which they were fished. The wine's name is a play on the words arome and arum, which is a type of white flower that grows at Château Lagrange. Both words are pronounced the same way as the French word for aroma.
We then enjoyed a tripe-based cold cut from famous Pauillac butcher Bernard Ardouin: the peppery cold cut, which we enjoyed at Lion d'Or as well the night before, is called le Grenier du Médoc. With the veal we began with a 1991 Branaire Ducru. 1991 was a weak year in the Médoc, affected by a late April freeze that reduced the harvest, but Patrick's wine had a freshness and medium body that made it very appealing. Then came the more serious 1989 – as a mystery wine in a carafe, which I could not predict, thinking it was again the 1996. It tasted far younger than it was: a sure sign of a wine that ages slowly. In the glass, subtle notes of spice, chocolate and blackberry greeted the nose before emitting more classical Médoc Cabernet cigar box aromas.
But then came a huge surprise. Patrick had asked me earlier the year of my birthday, and then brought out a 1966 Branaire Ducru, which had subtle notes of fine leather on the nose, with a sweet licorice-flavored palate. It was round and pleasingly tactile, lending it a silky texture. Having rarely tasted the 1966 vintage, it only made me wonder how good the first growths like Latour and Haut Brion would be. Probably quite good...
With a background in banking, Patrick worked later as a manager in the sugar industry, for a company belonging to the family of Evelyn, whom he married in 1978. He then took a major interest in the château in 1988, and now takes much time with guests to show them around, not just the château, but also the Médoc itself. The couple has four children: two girls and two boys, each having pitched in at the château during the harvest, though all are in Paris either working or going to school. The Maroteaux exude the happiness of a big family. Already grandparents, they look forward to seeing their three-year old grandson Augustin, who calls Château Branaire Ducru la maison des raisins (the house of grapes).
Having written about wine now for about five years, I have come across many passionate winemakers in Bordeaux, but Patrick counts among the most passionate I have ever met – and generous. After our Saturday lunch, he spent several hours with me, explaining the difference between Merlot and Cabernet Sauvignon and showing me how the soil and climate in Bordeaux can be perfect for both. He and Evelyn drove me down to the estuary of the Gironde, where the shrimp were caught, to show me the importance the river has on moderating surface temperatures, which explains why vines closer to the water tend to make riper grapes. If a year is either too cold or too hot, the river's influence can have a beneficial impact.
Then we walked along the soil near the river, to see that the characteristic heat retaining and water draining gravel – so important for the late ripening Cabernet Sauvignon – starts suddenly from a heightened slope of some 12 meters, just 200 meters beyond the mud near the river, where wheat and corn are grown.
Back at Branaire Ducru, he showed me how to recognize the difference between the Merlot and the Cabernet Sauvignon grapes, not just by the look of the grapes but also by their respective vine leaves. Merlot leaves are a bit darker and get larger than those of the Cabernet. Also, they tend not to have any overlapping layers, as with the leaves of the Cabernet. The Merlot grapes are also slightly larger and thinner-skinned and looser in bunches, while the Cabernet grapes seem to form a more symmetrical bell shape. He then spoke enthusiastically of the importance of older vines and their deeper roots – 10, 12, even 15 meters – that can find the moisture and enriching qualities deep below the surface, which can result in more complex wines – something the château produces amply: some 220,000 bottles annually.
The 50 hectares of vines, not all around the château but spread out across the appellation, is relatively modest by Médoc standards, as some châteaux are double that size. But, Patrick said that it makes things easier to manage. His experience as manager at Eurosucre pays dividends, as he has shown delegation talent in running the château, first finding manager Philippe Dhalluin – who is now at Château Mouton Rothschild. Dhalluin worked with Patrick until 2001, and the quality of the wines at Branaire Ducru reached new heights with his valuable management.
Since Dhalluin's departure, Patrick found another talented manager in Jean-Dominique Videau, who has a double degree in agriculture/agronomy and enology and is assisted by Olivier Campadieu, head of vinification, who had previously worked at the mythical Sauternes winery Château d'Yquem. Rudolf Meung is in charge of the vineyard. Before Patrick's arrival, Château Branaire Ducru did not have a second wine. Adding a second wine in 1988 – made from younger vines and lesser grapes – has improved the quality of primary wine. In addition, yields were reduced to about 45 hectoliters per hectare, which resulted in a more concentrated wine.
The typical final blend, which can vary according to the vintage, is about 70 percent Cabernet Sauvignon, 20 percent Merlot, 8 percent Cabernet Franc and 2 percent Petit Verdot.
continued on page 6
---

previous page next page