IN THIS ISSUE:
Poitiers:
A Realm of Romanesque
by Arthur Gillette
Paris Enigmas
by Arthur Gillette
Ici et Là
Designing an Itinerary
A Mule in Rouen
by Rob Silverstone
Lyon's Festival of Lights
by Maxine Rose Schur
FEATURING
The Prehistoric Southwest
French Wine Report:
by Panos Kakaviatos
A Review:
Ski & Snowboarding Travel DVD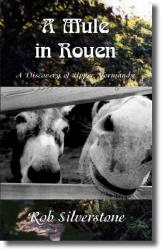 During the French Renaissance and subsequent Age of Reason, the gaudy colors traipsing across the sculpture and window panes of cathedrals and other major medieval churches came to be looked on as pagan, even barbaric – worthy of the Goths! So the term "Gothic architecture" was originally far from a compliment. And the colors were scraped and scrubbed away, leaving today's often ivory-hued pristine stone and clear, or 19th-century-stained, glass.

The pendulum is beginning to swing back, however. Nowhere is the polychrome revival more stunning than in Poitiers. At its Romanesque flowering, Poitevin religious architecture was a riot of color, now returning thanks to ingenious and state-of-the-art light technology.

Perch on the esplanade before the western façade of 11th-12th century Notre Dame la Grande collégiale church of a summer evening. At 10:30 sharp the meager monochrome diet suddenly bursts into a bright, rich and varied feast of reds, blues, yellows. Etched against the dark night sky are "comic strip" renderings of Old and New Testament episodes, used in the Middle Ages to impress and instruct an almost totally illiterate population.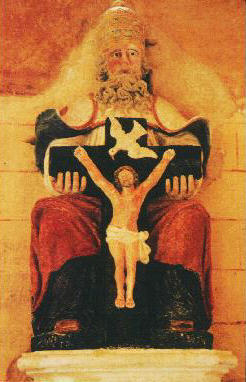 In fact, Poitiers offers visitors three "menus" for self-guided visits to its Romanesque and other architectural treasures. Although a drivers' hell, old central Poitiers is a strollers' paradise – even the dogs seem more careful than, say, their Parisian counterparts.
And there's a lot to check out. By my count, there is about one officially listed historical monument per thousand inhabitants.
Three itineraries, materialized by color-coded strips on sidewalks, begin at an intersection near Notre Dame la Grande. You can follow them using a map guide available free of charge (in English, too) from the Office de Tourisme just across the esplanade from that church. Explanatory plaques abound, as do, with English summaries, informative lecterns.
Let's first sample the Red Route. It takes you, for example, to the handsome 11th century belfrey-porch of St. Porchaire church, cheek-by-jowl with a wall of its 10th century predecessor.
From there, it's just a few minutes' walk to St. Hilaire, named for Poitiers' first documented (in the 4th century) bishop, Hilary. Dating from the 11th and 12th centuries, this church's vast naves still welcome pilgrims (although they no longer sleep there) on their devout way to the shrine at Santiago de Compostella – literally " St. James' Star Field" - in northwestern Spain. continued on page 4