Planning a trip to the great wine country of Bordeaux? The region includes thousands
of châteaux ready to welcome your visit and try their wines. Every two years in June,
the city of Bordeaux hosts one of the largest wine festivals in the world called Vinexpo,
where several châteaux are chosen to host dinners and tastings. Some 50,000
journalists, merchants and other professionals descend on the city to participate.
The following photo-filled article illustrates the festive atmosphere from the June 2003 festival.
Placido Domingo, Catherine Deneuve and Others Celebrate at Château Mouton Rothschild
by Panos Kakaviatos
Gala dinner at Chateau Mouton Rothschild and "collectors' vintages" tasting in St. Emilion highlight Vinexpo 2003
Some 1,800 guests came to Château Mouton Rothschild – including Bernadette Chirac, wife of French President Jacques Chirac, and Claude Pompidou, widow of late French president Georges Pompidou – to enjoy a festive dinner party, known as the Fête de la Fleur, on the last day of Vinexpo.
Opera tenor, Placido Domingo, sang live on stage, surprising everyone with operatic songs over a sumptuous feast featuring the mythical 1982 vintage of Mouton Rothschild among other fine wines.
Gathered in tables of twelve under a colorfully lit and immense tent-like metal structure, guests were treated to an ambiance resembling the Cannes film festival, with noted cinema stars such as actress Catherine Deneuve and actor Jean-Claude Brialy turning up for the party held by Mouton Rothschild owner Baroness Philippine de Rothschild, herself a former actress.
The Commanderie du Bontemps, a brotherhood grouping Médoc, Graves, Barsac and Sauternes, has organized the Fête de la Fleur annually in Bordeaux since 1952 to celebrate the vine flowering in anticipation of the autumn harvest -- but the party also marked two special anniversaries.
During the dinner, a short film about Mouton Rothschild's history was screened to mark both the 150th anniversary that Baron Nathaniel de Rothschild of the family's English branch bought Château Brane Mouton and renamed the vineyard located in the heart of the Médoc, as well as the 30th anniversary that Château Mouton Rothschild was promoted as one of the top five "premier cru" wines in an otherwise rigid 1855 classification of top Bordeaux wines.
After the film, the Baroness asked guests to turn their menu to the page including words to a song called "the hymn of Mouton," announcing that the double anniversary was the perfect occasion to sing that song.
"But who will sing it?" she asked rhetorically.
As some diners – at least at my table – fought tooth and nail for every last drop of the 1982 Mouton Rothschild, a perfect 100 points on the Robert Parker scale, lush red curtains behind the Baroness rose and Placido Domingo, who had just flown in that afternoon from London, burst into song.
"I've been going to these sort of outings for the past 50 years, and I've never been to one as impressive as this," proclaimed a dapper Anthony Barton of Château Léoville and Langoa Barton.
And impressive it was.
To begin, special buses drove guests to the château from the small river front of the Pauillac village. Upon arrival at 7 PM, the wine world's elite, such as international wine consultant Michel Rolland and Sommelier of the Year, Marcus del Monego, mingled and sipped champagne as the Commanderie du Bontemps opened its ranks to some prestigious new members in a formal ceremony: British Ambassador to France Sir John Holmes, Asahi Brewery chief Shigeo Fukuchi, the head of the Daewoo group Kyunghee Lee, and Chanel general manager Marie-Louise de Clermont-Tonnerre.
Dinner began promptly at 9 PM, and guests enjoyed a starter of asparagus, truffles and white lake perch with herbs, followed by a duo of veal with delicate vegetables, fine cheeses, and, finally, a dessert of verveine sorbet and cooked peach with caramel. As if all that were not enough, fireworks lit up the sky at midnight, followed by disco music for guests to dance on stage.
One small caveat perhaps: while four of the five wines served are proven giants, one was more controversial.
A white 1999 Château Haut Brion started things off, whose 14% alcohol surprised most because the wine was delicate, balanced and extremely fine; the 1996 Château Margaux (99 out of 100 points on the Robert Parker scale) was aromatic and silky, if perhaps too young; the 1982 Mouton Rothschild lived up to its reputation, balancing elegance and power, with a long, long finish. The meal was capped with an honorable Château Coutet 1989 from Barsac, a stellar vintage in that region.
But some did not approve the choice of serving a Pauillac Baron Nathaniel 1999, one of the Rothschild's many trade wines, just after the Haut Brion.
"What is that doing here?" complained one person.
Sommelier del Monego praised the choice however.
"It was logical because dinners like this rarely showcase trade wines, which are an important part of Bordeaux sales, and because it was Baron Nathaniel who bought the château 150 years ago," he said.

A violent storm marred dinner, but not the gathering, for extraordinary "collectors' vintages" in St. Emilion
Just two days earlier, the top classified growths of Saint Emilion, the famous Bordeaux region generally dominated by Merlot, scheduled their own gala dinner at Château La Gaffelière, one of only 13 "premier grands crus" there.
Despite a massive and sudden storm, which drove the 130 guests that evening into the château's cellar, the wines tasted [see list] lived up to their stellar reputations.
During each Vinexpo week since 1989, the very top St. Emilion châteaux organize a dinner of "collectors' vintages," featuring rare and legendary wines from yesteryear. This year, they invested some 110,000 Euros to prepare two fairy-tale like tents at Château La Gaffelière for the dinner, prepared by Philippe Capdevielle, one of Bordeaux's most highly rated caterers. Staff worked twelve consecutive days, weekend included, to set up the décor, with careful attention paid to the layout, lighting and table settings.
The menu included some of the finest cuisine to match the illustrious wine list, such as foie gras, truffles, eel medallions, lamb with fine herbs, a millefeuille of vegetables with spice, cheeses and a dessert of strawberry and macaroons - known for their quality in St. Emilion - and an original olive oil ice cream.
But fate had other plans: while guests enjoyed their 1988 Dom Perignon champagne apéritif outside the château at about 9 PM, the sky turned unusually dark, followed by hail, rain and havoc, just as guests were entering the tents...
In less than one hour, the storm wiped out not only the hard work put into that dinner, but also knocked down some 6,000 hectares of vines in the entire Bordeaux region, mostly in Entre-Deux-Mers. The next day, one of the guests, Pascal Delbeck of Château Belair, said that the storm seriously harmed parts of his premier grand cru vineyard.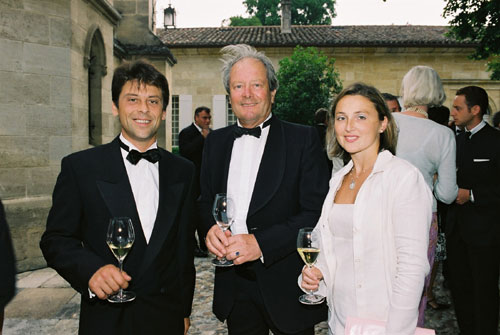 "I've never seen anything quite like this," said celebrated wine writer Steven Spurrier, waiting inside one of the château's halls with the other guests, wet and confused.
But improvisational ingenuity saved the evening.
Much of the food was lost, left underneath the tents, but the wines were safe and sound in the château's cellar, to which the guests were led.
On the way there, some of the guests, including the elegantly dressed Juliette Bécot of Château Beau-Séjour-Bécot, helped staff mop away water in the vat room, to prevent anyone from slipping on their way downstairs to the cavernous, oak barrel-filled cellar, now lit with candles for the improvised gathering.
"It turned out to be a lot of fun," said Charles Chevallier of Château Lafite Rothschild. "Before, we would have been seated at our own respective tables, but in the cellar, we were able to circulate and mingle."
Perhaps the only problem was that the wine's drinking order – designed for a carefully planned dinner – was maintained for only bread and cheese, so drinking the brilliant Château Cheval Blanc 1982 after the much older (and far less tannic) Château Trottevieille 1953 perhaps made the Cheval Blanc taste harder than it should have.

Many agreed that the Château Figeac 1961 shined brightest that evening; Joshua Greene, publisher of the American wine guide Wine and Spirits, for example, said it was "simply the best."
Meanwhile, other wine writers like Olivier Poels of the French wine magazine La Revue du Vin de France, noted that each of the bottles varied in taste, leading to nuances discovered in different bottles of each of these collectors' vintages.
Both Château La Gaffelière and Château Mouton Rothschild are open for visits. All you have to do is call ahead of time, and a tasting and visit will be organised for you. Château Mouton Rothschild: 33 5 56 73 21 29 and Château La Gaffelière 33 3 57 24 72 15.
[Collectors' vintages: Château Pavie 1998, Château Beausejour Duffau-Lagarrosse 1990, Château Magdelaine 1989, Château Angelus 1989, Château Beau Sejour Bécot 1971, Château Canon 1970, Château La Gaffelière 1966, Château Belair 1964, Château Figeac 1961, Château Clos Fourtet 1959, Château Trottevieille 1953, Château Cheval Blanc 1982.]
---
Panos Kakaviatos is an American who lives in both France and the United States
and has worked as a congressional reporter, for UPI and the Council of Europe in Strasbourg.
Fluent in four languages and holding both Bachelors and Masters degrees, Panos is now focused on his passion: French wine.
He has written for Wine Citizen and World Wine Report and that he writes about wine and wineries in France has been our good fortune.
If you would like to contact Panos, his email address is: panos_kakaviatos@yahoo.com

[Photos used in this article are the property of the respective châteaux or Groupement de 1er Grands Crus
de Saint Emilion -- to determine photo credits, please pass your mouse over the photo.]


---
DISCLAIMER: You have received this newsletter because your email address is on our Opt-In mailing list, i.e., you have requested to receive FRANCE On Your Own ©. If you would like to discontinue receipt of this newsletter, please send an email to publisher@franceonyourown.com with "unsubscribe" on the Subject line.
Unless indicated otherwise, photos, graphics and text in the FRANCE On Your Own © newsletter are the property of Cold Spring Press and FRANCE On Your Own © and cannot be copied, duplicated or used in any manner by anyone without the express written permission of Cold Spring Press. FRANCE On Your Own © is published on line by Cold Spring Press, P O Box 26098, San Diego, California 92196-0098. This publication is copyrighted and no portions of the text, artwork, graphics or photographs may be reproduced or distributed in any form or by any means or stored in a database or retrieval system without the written permission of the Publisher. For more information about FRANCE On Your Own ©, visit our web site at http://www.franceonyourown.com.
Recommendations made in this newsletter are based upon the personal experiences of the Publishers or contributing writers solely to provide information to subscribers. Cold Spring Press and FRANCE On Your Own © make no endorsements nor are any guarantees or promises of satisfaction given or implied. Any and all information is correct to the best of our knowledge, and the Publishers accept no responsibility for errors and/or omissions. The responsibility lies entirely with the traveler to obtain current information regarding accommodations, availability, schedules, prices, reservations, or any other pertinent details. We do not guarantee the historical accuracy of the contents of articles in this newsletter. Historical accuracy is dependent upon one's sources of information -- and contradictions often exist among those sources.
FRANCE On Your Own © is electronically transmitted via email. To add your email address to our database for this FREE newsletter, send an email to info@franceonyourown.com, and please put Subscribe in the subject line. We do not share email addresses with any other organization.
BACK ISSUES of the print version of FRANCE On Your Own © are available on our web site at http://www.franceonyourown.com/Archives.htm.
---

previous page