IN THIS ISSUE:
France Tourism . . .
and Notre Dame Cathedral

Ici et Là



A visit to a Bordeaux Vintner

~
Time well spent with
Gavin & Angela Quinney
Hidden Gem in the French Countryside:

~
St-Pierre d'Albigny in the Savoie
THE BOOKSHELF:


~
Cook Like A Local In France
by Lynn Martin & Deborah Scarborough


~
Notre Dame de Paris ~ A Celebration
of the Cathedral

by Kathy Borrus



Rooster atop Notre Dame Cathedral, Paris



PHOTO CONTEST


~

Insufficient number of entries!




LOOK INSIDE . . . with a click


> Our

Ici et Là

column will emphasize things to do and see as an armchair traveler, since a majority of events, exhibits and other activities have been canceled or postponed due to the pandemic. Also do visit

Did You Know?





~



> to visit the Bordeaux vineyards of

Château Bauduc

in Créon to read the owner's topical and interesting articles ~ and, of course to learn more about their very popular wines.



~



> and come along with us to our Hidden Gem in the French Countryside, fifth in our series of places in France you may want to see for yourself on your next visit.



~





> to visit again with

Sylvaine Lang

~ this time to hear about her country life while following the government restrictions during the pandemic ~ including having an official pass to leave home and not being able to travel more than 100 kms from her front door.

~



> our

PHOTO CONTEST

has been suspended as we did not receive more than a few photos. Perhaps we will try again in a year when travel may be getting back to normal.
---
FRANCE

On Your Own

invites articles
from our readers about their time in France.
We can't guarantee when we will publish all
those we receive, but we will do our best to

include them for our other readers to enjoy.
[No payments are made for submissions used, but
we will promote your France-related book or project.]
This newsletter is best viewed with a

Firefox

browser

with a full screen

.

It is not formatted for printing.



" Wine is the most healthful and most hygienic of beverages."
- Louis Pasteur
Some time away . . .


We've

been publishing this newsletter since the Spring of 1997 ~ a full twenty-three years without missing an issue ~ although we did reduce the annual number of issues from four to three in 2018. Following last Spring's edition, which covered the tragic fire at Paris' Cathedral de Notre Dame that took place one year ago, we decided it was time to go on hiatus . . . time to take a break. The "yellow vest" protests that began in Paris in November of 2018 and then spread across the country were discouraging visits to France, and we were, and still are, mourning the loss of our dear friend Arthur Gillette who was a mainstay of FRANCE

On Your Own

until his passing in 2016.
Well

, we are back with this first 2020 issue, even as the world is in the throes of the horrific COVID-19 virus ~ a time when we are all sharing the same experiences of staying at home, keeping our distance from others, wearing masks and gloves when we venture out occasionally to shop for food or medicine, and praying each in our own way that a vaccine will come along

very

soon. Predictions that the virus may die down and then resurface in the autumn months are very disturbing as are stories of people who just refuse to follow the recommendations of scientists and medical experts that could stop the spread of this disease. Even now, the number of cases are increasing daily. The current protests in the US and several other countries may make a resurgence of the virus even more likely.
Our

visit to France in June was canceled along with the travel plans of millions of other people. But, we do hope to be able to visit the country we love next year. For those of you who look optimistically at the future as we do, we hope this newsletter gives you hope and piques your interest as well as providing something to read during the long hours spent at home. We wish everyone good health, and please do everything you can to keep safe.


France Tourism . . . and Notre Dame Cathedral


2019 saw a record 91 million foreign visitors come to France. The Budget Directorate, which forecasts tourist numbers and revenue, had predicted 94 million, but it came in lower than expected. Government documents indicate that the 'yellow vest' movement and the effect of Brexit was primarily to blame. We also believe that the damage to Notre Dame Cathedral dampened the desire of many people to go to Paris last year ~ see our update on the reconstruction below.



"The

indicators for the first months of 2019 showed a decrease in international tourist traffic for the first half of the year. The trend was largely explained by the nationwide social movements that affected the country at the beginning of the year, which had an impact on medium and long-term bookings, as well as by the effects of the decline in the pound (the UK being our premier tourist market), " said the Budget Directorate.


However

, the Directorate predicted 94 million foreign tourists in 2020, a revised number as 100 million was the original goal which is now being pushed to 2022.


We
hope that 2021 will be pandemic-free and that those whose health is or was impacted by this virus get well quickly. Most important is that none of us is exposed or exposes others by practicing social distancing ~ a new term to describe what is vital in an effort to put this all to an end.
Many airline employees are concerned that they are not receiving enough support and protective gear from their employers and that they and their passengers are spreading the virus with each flight they take. Some airlines are providing mixed messages about how they are keeping passengers safe as well.


France

will still be there when once again travelers are able to visit ~ and European countries are re-opening their Schengen borders to one another. France has 37 UNESCO World Heritage sites, many cities of cultural interest, beaches and resorts by the sea, green tourism and ski resorts.

Les Plus Beaux Villages de France

are picturesque and inviting as you explore the beautiful and tranquil French countryside. And, the French Ministry of Culture reminds us that there are over 200 "Remarkable Gardens" to visit and many urban and rural parks for you to enjoy.
Everything has changed

~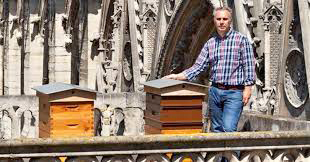 Notre Dame Cathedral

may take 10 to 15 years to rebuild according to some estimates. Currently, it is not open to the public, and because of its fragility, even investigators have been kept away due to safety concerns. It has been determined that the fire was an accident, most likely caused by an electrical short.



In

addition to the religious relics and treasures that were saved and moved to the Louvre Museum for safekeeping, it has been reported by Nicolas Geant, the official beekeeper of Notre Dame and head of Beeopic, that the cathedral's hives, home to about 180,000 honeybees, are just fine with a great deal of bee activity as recently as four days after the fire.
The three hives are located on a roof above the sacristy about 100 feet below the cathedral's damaged main roof. Sibyle Moulin, also of Beeopic, was permitted to visit the hives last July for the first time since the fire. She noticed many baby bees, which reassured her that the hives were fine. She gathered 66kgs of honey from the three hives which has been sent to Canada to be tested for lead.



Beeopic

maintains the hives and bee colonies, but the honey produced at the cathedral and about 350 other hives in Paris that the company looks after belong to the owners of the buildings on whose roofs they sit, including the nearby Grand Palais. The urban honey bees of the Brother Adam Buckfast variety were developed for their mild temperament in the 1920s by a Benedictine monk.

[courtesy The Guardian]

Although

the spire, added in 1849 by architect Eugène Viollet-le-Duc to replace the original 13th century spire, was lost in the fire, it has been reported that the rooster atop the spire survived. The spire was constructed of a wood frame clad in lead which created a lot of dangerous pollution following the fire. French Prime Minister Edouard Philippe announced an international competition will be held to design a new spire.
Despite

the loss a year ago, the archbishop of Paris held a beautiful Good Friday service inside the cathedral. It was televised in France in order for people to virtually 'attend'. To see and hear it click here. [We apologize in advance for the other unrelated videos or advertisements.]
Château for Sale in the Historic Allier

département
This magnificent Neo-Classical château
with a separate guest house, garages, and a lovely pool
is set on a five-acre park with its own pond. The design is a copy of
Le Petit Trianon
at Versailles.
Until recently a lovely bed and breakfast accommodation, it offers 3 double bedrooms and a twin,
all en suite, in addition to the owner's quarters. Situated above a delightful and historic town
with a connection to the Bourbons, this gem can be yours. The priory church in the village, where
some early abbots of Cluny are buried, is a fine example of the blending of Romanesque and Gothic
architecture, and it was a stopping point on the pilgrimage route to Santiago de Compostela.
Contact us today for more information.
next page

©1997-2020 Cold Spring Press All Rights Reserved
Recommendations are not guarantees of satisfaction and are made only
to assist travelers with suggestions and web sites that we have found very useful.