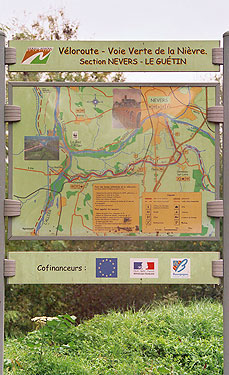 Last, but certainly not least, is the lovely département of the Nièvre (58), farthest from the largest wine producing area of Burgundy. But it has its own area of vineyards, to the west, along the Canal Latéral à la Loire - a waterway we had the greatest pleasure cruising in 2009 - and north of the town of La Charité-sur-Loire. This sign on the canal provides a map of cycling routes near and along the canal.
The Nièvre shares the Parc du Morvan with its eastern neighbors, and its capital, Nevers, is rich with monuments. Here you can visit the tomb of St Bernadette of Lourdes at St-Gildard convent, Julius Caesar's 'Noviodunum' towers at the point where the Nièvre and Alliers rivers pour into the Loire, both Romanesque and Gothic cathedrals, a 15th/16th century Ducal palace and a museum of faïence pottery and blown glassware.
Those interested in recent history will appreciate the Musée de Resistance located in the Maison du Parc of the Parc du Morvan. To find it or for further information contact Musée de la Résistance en Morvan, Maison du Parc, 58230 Saint-Brisson, France; telephone 03 86 78 72 99 from within France. Their email address is museeresistance.morvan@orange.fr.
A large, if not the largest, manufacturer of faïence in Nevers is Faïencerie Montagnon. The photo below is an example of their work. A limited number of visitors is welcomed to their studios in July and a few days in early August (with the exception of July 14) precisely at 2 PM. There is a small charge of €3 per person. Children under age five are free. The contact information for those planning to be in the area is Faïence d'Art de Nevers, 10 rue de la Porte du Croux, 58000 Nevers, France. Phone from within France 03.86.71.96.90, email is montagnon@wanadoo.fr, and their web site is http://faiencerie-faience-ceramique.faience-montagnon.fr/index.htm.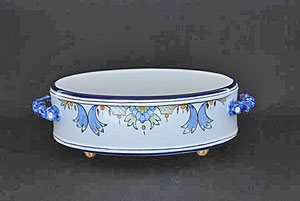 Faïence Jardinière from Nevers
The Nièvre has other interesting towns including Pouilly-sur-Loire, famous for its gastronomy and Pouilly-Fumé white wine, and La Charité-sur-Loire, mentioned earlier, with its church of Notre-Dame erected in the 11th and 12th centuries that could hold 5,000 people - a grand example of Burgundian Romanesque architecture.
There are many companies in the business of renting pleasure boats for cruising the waterways of Burgundy, which has almost 1200 kilometers of canals and rivers providing a delightful way to see the countryside. The Seine, Loire and Rhône rivers all converge in Burgundy. To connect them to one another, canals were built beginning in the 17th century. The Saône, Yonne and Seille rivers added to this network of navigation which has made Burgundy an attraction to boating enthusiasts from around the world. Of course, you can just as easily rent a piloted peniche or converted barge with a crew of two or more and then just sit back, relax and enjoy gliding along the canals and through the locks. To read about our fantastic experience on the Canal Latéral à la Loire, please read our November 2009 newsletter by clicking here.
Houseboats (self-piloted) can be rented to accommodate up to 12 passengers with prices at fairly reasonable prices in low season to much higher prices in peak season. As we have not had the pleasure of renting a houseboat, we cannot specifically recommend any particular company, but a web search will provide many options. The French Government Tourist Office can no doubt also provide you with the names and contact information of various firms in the business of letting houseboats. There are also luxury cruises that are operated by a crew on a full board basis. Consult your travel agent or the French Government Tourist Office (New York and Los Angeles for Americans) for the names of those operators.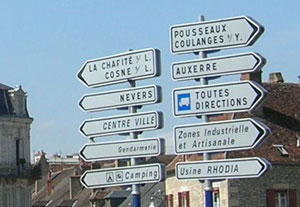 We often stop for a break in hamlets, villages and towns along our driving route. Without fail, there is a small café, a little restaurant or a brasserie with outdoor seating, the latter of which is the most enjoyable. In Clamecy (shown in these photos), on the Canal du Nivernais and the River Yonne, we got out of the sun to sit under an awning to enjoy a coffee. Not exactly scenic, the location is, however, something of a 'crossroads' in the Nièvre - a rond-point (traffic circle in the US; roundabout in the UK) and traffic goes counter clockwise! The signs tell you that you can go in many directions, but surprisingly make no mention of Vézelay, a wonderful UNESCO World Heritage site and a starting point for pilgrims on the route of Saint James de Compostella - only 23 kilometers to the east.
As the inventors (the Montgolfier brothers) of the passenger hot air balloon were French, it is fairly easy to see their beautiful country by floating silently above it in the basket of a balloon. This is very popular now throughout France, especially in the Loire Valley where many châteaux offer this as an extra benefit if you are their guests. In Burgundy you can depart from Beaune, Auxerre, Chalon-sur-Saône, Longvic, Nevers and other towns as well as from private estates. Contact Montgolfières en Bourgogne's web site for all the details you will need to schedule your hot air balloon ride.

We hope we have piqued your curiosity about a visit to Burgundy. It is one of the easiest areas to reach when visiting Paris - a pleasant change from the hustle and bustle of city life - and a pleasant place to drive in France. If you are interested in renting a room in a château for a night or more, or if you want to find a self-catering gîte in any of Burgundy's four distinct départements, we recommend you visit the web site au Château. We are including one member's château below.
Where to Stay in the Nièvre: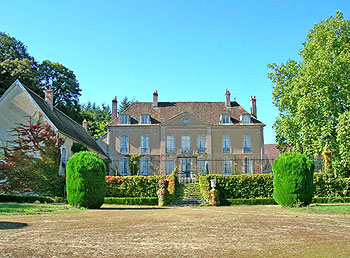 Château de Villette
This Château is a classical private residence set on an incredible 500 acres in the Morvan hills of western Burgundy sixty kilometers from Beaune.
The parkland and setting are said to be earlier examples of the work of the famed André le Notre, renowned for his designs at Chantilly and Versailles.
Guests will find themselves enjoying the formal gardens and terraces, centuries-old landscapes, running crystal streams,
ponds, lakes, forests and hedged fields -- and astonished by the unending panoramic views.
The accommodations offered are recently redecorated rooms incorporating exquisite linens and fabrics, luxurious beds,
furniture suited to the period and en suite bathrooms with all modern amenities.
Dinner , with menus devoted to fresh local meat, vegetables and dairy products, is prepared in the sixteenth century kitchen
and can definitely be categorized as Burgundian "haute cuisine". Guests are then served by candlelight
in the grand eighteenth century formal dining room, accompanied by carefully selected wines found on the finest wine lists in France
-- wines from the nearby Côte de Nuits, Côte de Beaune and Côte Chalonnaise.
Contact inquiry@au-chateau.com for availability. Château open only to groups during hunting season.


---
SPONSORING THIS ISSUE

Discover the most interesting, historic and inviting places to spend your
next vacation in France ~ whether it is for a night or two or a week or more.
Choose from over 80 comfortable and reasonably priced manoirs and châteaux
throughout France. Visit au Château today to lose yourself in the romance
and beauty of these much-loved family residences.
---
Notes from Narbonne . . . Narbonne Patrimoine
by Marlane O'Neill

Spring brought us unseasonably warm weather in April and May with a little dip in June. In early July we have a steady stream of hot days so we find ourselves sunning on the beach regularly. On Narbonne Plage we are surprised to find a new restaurant located directly on the sand in front of the surf. We almost have to rub our eyes in disbelief as it is an enormous confection of white tents and red umbrellas - rather as we might imagine a mirage in the desert. It is called La Voile Rouge, and we wasted no time checking it out.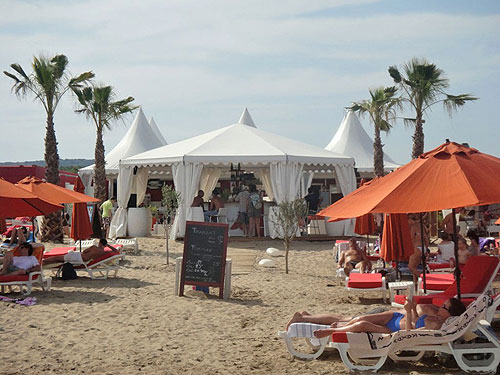 La Voile Rouge at Narbonne Plage
Our first visit we enjoy frosty glasses of chardonnay in the bright sun, lounging on foamy chairs in full view of the sea. Not bad, rather like a swank Miami Beach. The second visit they are still setting up the restaurant so we had to come back a week later for a proper meal. We return on a Monday evening to find the place filled to the brim, every seat taken and looking like it has been in business for years. My entrée of oysters in a cream sauce is lovely, and we all marvel at the towers of shellfish that many customers are enjoying. The establishment marks a milestone in Narbonne Plage's image, bringing it up a notch from the regular cantines of moules frites. In front of the resto there are lounge chairs for rent for a tony 13 euros a day. Take a look at the photo and you may have to agree that la vie est belle, n'est-ce pas?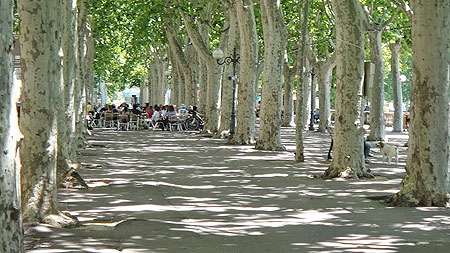 In addition to our new beach place, we have more great news to announce: in Narbonne city center McDonald's fast food restaurant has closed and left for good having been replaced by a classic French brasserie called Le Cristal! Gone are the big photos of Big Mac, the endless swarm of ados, and the accompanying poubelle. Now we have a lovely sea of sparkling wine glasses set on elegant tables and a crowd of varying peoples all excitedly enjoying the graceful cover of the tall platane trees and the beautiful balustrades of les barques. Again on a Monday - Narbonne is usually closed up on Mondays - we visit Le Cristal with four out-of-town visitors. The remarkably well trained staff brings us crispy grilled meats, luscious salads, chilled carafes of wine and café gourmands. People are eyeing each other, there is abundant laughter in the air and the feeling is ubiquitous: Narbonne is developing a more cosmopolitan atmosphere with this new big-city type brasserie à la Aix-en-Provence or even Paris. We started the evening a little concerned that it was too soon to test the new resto and ended up walking away very pleased we had done so.
Besides the new restos we also have plenty of friendly barbecues to enjoy. One of our signature dishes is a round of brie or camembert put on the barbecue still inside its wooden box. The top of the cheese is sliced with an 'x' that is opened and some pesto or eau de vie is sprinkled inside. As the cheese melts, it absorbs the ingredients sprinkled within and becomes a delicious fondue that we dip bread into. In La Clape, an enormous nature reserve next to the beach, there are dozens of picnic spots nestled in the trees where we bask outdoors undisturbed while cooking a delicious lunch. Escape to La Clape is particularly handy when the wind is blowing too hard to sit on the beach – unless you enjoy getting sand blasted. The shielded picnic areas provide enough sun to get bronzed, and we are mollified by the alternative to sand and sea. Port La Nautique is also an idyllic spot for outdoor cooking and gatherings. We attend a party for a large group of expats there, all of us joined by our French teacher who organizes the barbecue. The warm weather brings people together, and we are happy to be living here, especially when the rest of France is experiencing a lot of unseasonal rain and lower-than-normal temperatures this summer. Even the Côte d'Azur has had more than its share of rain this year.
So, now in the heat of the summer, we have regular treats of music. For a week before Bastille Day there is drum music, singing and colorfully-dressed groups of dancers throughout town. Some of them resemble whirling dervishes! It is an impromptu festival of Arabian music. In the Place de la Mairie I manage to get a photo of three very glamorous ladies in their finest garb with smiles that could melt the North Pole.
Also in the Place de la Mairie they have put up the new schedule for the summer's festivities called Tempos d'Été or Rhythms of Summer. Fête de la Musique is June 21, the Summer Solstice which is celebrated all over Europe. During this night the French have what they call une nuit blanche, which means they stay up all night until dawn. The anticipation is palpable and dozens of bands line both sides of the canal. The city has also closed off our street and Le Place des Jacobins right in front of the building. A cool bossa nova jazz band sets up and starts cranking out very seductive Brazilian music that is impossible to ignore - being right outside our windows - so we are transported to the celebrations and last for hours going from band to band enjoying a wide variety of songs. We particularly like a bluegrass band that plays incredibly good banjo and guitar. The singing is also terrific except for one minor and endearing flaw – ze French accent!


Hearing these American folk songs sung so beautifully with a French accent just makes me smile. There is an enormous love of American country music here in Narbonne, and we see several bands that play acoustic music à la USA. Of course there are lots of French folk singers, Spanish Flamenco performers and traditional French torch songs that had been made famous by Edith Piaf, Charles Trenet and Charles Aznavour among others. Friends in Toulouse sadly reported that they had little more than DJ music in their streets, but I am proud to say Narbonne was a true festival of live musicians.
Although the Fête de la Musique is supposed to last all night, it hasn't done so for the past two years due to – rain. Around 12:30 AM the raindrops begin to fall and the music stops completely by 1 AM. However, I'm sure that the Narbonne cleanup crew doesn't mind. At the end of every festival they come out in force, by the dozens, and the mess is gone before the next day's breakfast baguette seekers are hitting the pavement.

continued on page six
---

previous page next page