This column is intended to advise you about cultural events, news and happenings
in France or France-related events taking place in the United States
between now and the publication of our next issue.
In France. . .
o In the news: French energy company GDF Suez took over Britain's International Power in early February, creating the second largest electricity producer in the world after France's EDF. Not only did the European Commission have to approve the takeover, but the United States, Australia and other nations did as well because International Power operates some 45 power plants throughout the world. . . France has a triple A credit rating from Standard & Poor's as of December despite the Eurozone crises. Those watching the performance of foreign stocks will note that France's CAC-40 has outperformed all the others, year-to-date. As of February 18th, it is up 9.13 percent, two full percentage points ahead of the next highest performer. . . Paris police have successfully cracked a major pickpocket operation on public transportation in Paris. They hope that it will put an end to about two thirds of all the thefts which netted the gang €1.3 million using children claiming to be twelve years of age or younger, thus avoiding arrest. . . French government officials did not adopt a tax on plastic shopping bags in December, and earlier in the year abandoned plans to initiate a 'carbon tax' on fuel emissions. Both decisions were decried by environmental organizations. . . France is still the number one destination in the world for foreign travelers, but China has moved up to third place behind the United States. In 2010 78.95 million visitors went to France. Were you among them?
o The Versailles Palace is converting one of its satellite buildings into a luxury hotel. The Hôtel du Grand Contrôle, designed by Jules Hardouin-Mansart and which was the home of the château's treasurers, will have 23 bedrooms looking out over either the orangerie or the ornamental lake. Completion is planned for late this year. Similar projects will extend to other buildings in France, as the government sees it as a way to make historically listed buildings bring in revenue while benefiting from the renovations. The Château de Fontainebleau is looking for bids to develop its Heronnière barracks in 2012, and some 20 other listed sites throughout France are being considered.
o Fête du Citron - 78th Annual Citrus Festival in the city of Menton through March 9th. From the golden parade of fruit-filled floats to the citrus decorations in the Biovès gardens, this year's theme will be The Great Civilizations. www.feteducitron.com
o Granville, Normandy - Carnaval de Granville March 4 through 8 - 137th Carnival held in the city of Granville honors the local fishermen as they depart to sea. The festivities welcome 34 satirical parade floats, 120,000 revelers and thousands of pieces of confetti in celebration of the first great traditional demonstration in western France. www.carnaval-de-granville.fr (French only)
o Festival de Jazz, March 16 - April 3 in Amiens (Picardie). The 30th edition of the annual music festival featuring jazz, rock, and other music of the world. For more information www.amiensjazzfestival.com (French Only)
o Les Giboulées de la Marionnette, the puppetry festival with artists from all over Europe, will be hosted from March 18 to 26 in Strasbourg. Schedules and venue information at www.tourisme-alsace.com
o Marriages in France become even more special if they take place at Château des Condé in Burgundy. Dedicated to hosting weddings, the proprietors of this elegant and historic château handle every detail of a wedding tailored to the bride and groom's dreams and wishes. Lavish celebrations, music and dancing, fine wedding suppers and, perhaps, a fireworks display ~ a memorable and happy event for all.
o Vente des Vins des Hospices de Nuits takes place on March 20 in Nuits-Saint-Georges, Burgundy. This wine sale will benefit the Hospitals of Nuits-Saint-Georges. For more information visit www.hospicesdenuits.com (French only).
o Grandes Eaux Musicales de Versailles from early April until late October in Versailles, every Saturday and Sunday at 11:00 a.m. and 3:30 p.m. throughout July, August & September (Saturdays only). A grand display of the 50 fountains in the Versailles gardens is set to music. Details at www.chateauversaillesspectacles.fr (French only)
o April 10 is the date for the 35th Paris Marathon. The annual marathon begins at 8:45 AM on the Champs-Elysées, via Bastille Nation Vincennes, then onto the Tuileries, and finally ends on Avenue Foch. Information at www.parismarathon.com.
o Berck-sur-Mer in Nord/Pas-de-Calais will host the 25th International kite meeting, Rencontres Internationales de Cerf-Volant, from April 16 - 25. Please visit www.cerf-volant-berck.com.
o The Cannes Shopping Festival, April 21 through 24, will be held on Easter weekend for its 8th year. Boutiques and stores around the Croisette and rue d'Antibes will offer special deals and hold special open evenings for the public. For information please visit www.cannesshoppingfestival.com.
o April 22 - 24 in Cabriès-Calas (Provence) will be the Bénédiction des chevaux, the annual blessing of the horses held on the esplanade of the 5th century chapel of Notre-Dame de la Salette perched on the Calas hill. Featured events include the blessing of over 600 horses, bull races, games, and exhibitions. This event has been held every Easter since 1958 in the small village of Cabriès about ten miles south of Aix-en-Provence. www.cabries.fr (French only)
o Foire de Paris is Paris' large market fair featuring exhibitors with home furnishings, leisure, well-being, and world cultures at the Porte de Versailles, April 28 to May 8. More information at www.foiredeparis.fr.
o Orleáns hosts Fêtes de Jeanne d'Arc which is the commemoration of the liberation of Orléans from the English siege in 1429 by Joan of Arc. Day 1: commemoration of her arrival - May 1st in Orléans; Day 2: cathedral illuminations with sound and light show;
Day 3: religious ceremonies in the cathedral followed by processions and military parade. Information available at these web sites:
www.fetesjeannedarc.fr or www.ville-orleans.fr (French only).
o Saint-Emilion near Bordeaux will host Open House at Saint-Emilion Wine Châteaux, April 30 to May 1. Châteaux around Saint-Emilion will have their doors open especially to welcome visitors for tastings of their local red wine. Details available at www.saint-emilion-tourisme.com
o Lille is the place to be from May 6 through 9 for Les Montgolfiades de Lille, the hot-air balloon festival of balloon races and parachuting demonstrations. Information at montgolfiades.ec-lille.fr
o May 14 in Paris is Finale de la Coupe de France, the final game of the French Soccer Federation's season at Saint-Denis' Stade de France. Details at www.fff.fr/cfra/calendrier/700 (French only).

In the US . . .
o Washington DC's National Gallery of Art will present Gauguin: Maker of Myth from February 27 through June 5. This is the first comprehensive show of the artist's work in more than two decades, and examines the artist's ability to mythologize himself and includes about 200 works of Gauguin in all media and genre. More information at http://www.nga.gov.
o The Cooper-Hewitt National Design Museum in New York will showcase some 300 precious objects including jewelry and timepieces in an exhibit entitled Set in Style: The Jewelry of Van Cleef & Arpels. The jeweler's first boutique was opened on Place Vendôme in Paris in 1906, and the Arpels family came to the United States to open a boutique on New York's Fifth Avenue during World War II. The firm has been known for its innovative design as well as some of its famous clients such as Princess Grace of Monaco and Marlene Dietrich. Through June 5. For more information visit http://www.cooperhewitt.org.
o Paris in Bloom is the title of the exhibit in Philadelphia at the Pennsylvania Convention Center March 6 through 13. Celebrating springtime in Paris, visitors will have the opportunity to enjoy promenading along the Seine surrounded by lavender, roses and lilacs as well as to see displays of the culinary arts, Paris' role in art history and the charms of its cafés and courtyards. Information at http://www.theflowershow.com
o The Minneapolis Institute of Arts will host The Mourners: Tomb Sculptures from the Court of Burgundy which is on a two-year tour of the United States. Some forty mourners are at the foot of the tomb of John the Fearless, Duke of Burgundy, and his wife Margaret of Bavaria in the Musée des Beaux-Arts de Dijon, France. The tomb is a reconstruction from the 19th century as the original was destroyed during the revolution. The Museum has loaned thirty-eight miniature mourners (approximately 14 inches high) ~ mute monks expressing human grief more succinctly than any other late Gothic or early Renaissance sculptures. Carved by two sculptors, Jean de la Huerta and Antoine le Moiturier, they have, with several important exceptions, remained in Dijon since they were carved in the late 14th and early 15th centuries. Through April 17. For information http://www.artsmia.org.
o Toulouse-Lautrec and Friends: The Stein Collection is the exhibit of end of the century Paris images, some 80 in all, at the Museum of Art, Atlanta. In addition to Lautrec, works by Degas, Gauguin and Bonnard, among others, are also included. Through May 1. For information http://www.high.org.
o Richmond, Virginia's Museum of Fine Arts presents Picasso: Masterpieces from the Musée National Picasso, Paris, on loan from the museum which is undergoing renovation until 2012. This is the world's largest assemblage of his work, and his personal collection forms the core. Examples of his work from each of his major periods can be seen through May 15. Details can be obtained from http://www.vmfa.state.va.us.
o Credit card technology in the US is still lagging behind Europe and Canada. The chip and pin technology used in France and other countries is making it increasingly more difficult for Americans to use their credit cards in self-service gas stations, toll booths and ATM machines when visiting France, as these machines may very well not accept cards without a chip. Rumor has it that Visa and MasterCard would be willing to implement the technology here, but that US banks are balking at the idea. Capital One does use this technology in Canada, so there is hope that this credit card issuer, who is its own bank, will consider introducing it here in the US very soon.
[Some information courtesy of France Magazine]

---
Our Readers Write about France . . .
Some time ago, we asked readers to submit their own experiences of France to us in the form of short articles
including photos so that their time in France can be shared with all our subscribers. We're looking forward to receiving yours!
In this issue we are including an article by Ellie Boutin who tells of her rewarding experience
first as an exchange student in the Loire region of France and then
returning the favor back in her native Georgia. We are sure you will enjoy it!

The Kindness of Strangers . . .
by Ellie Boutin
Early last year I was invited to a reunion hosted by friends in my former home town of Avondale Estates, Georgia ~a reunion of host families, students and their teachers. At the party we celebrated the return of the students to the community. Avondale Estates residents had hosted students for nine years from one particular school in Loches, France, the Saint Denis International School. The hosting started in Avondale Estates because I wanted to give back.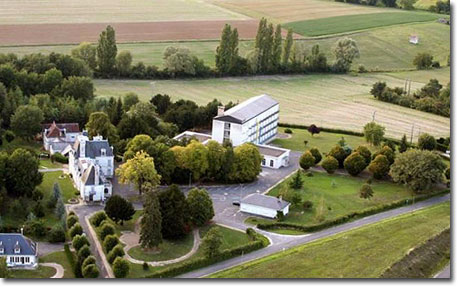 As a high school student I was fortunate to spend time in France as a foreign exchange student. I remember the excitement and anxiety of meeting my French family. I was nervous because I wasn't sure how I was going to communicate with them so that I was understood and so that I could understand them. My French was good, but not great. They opened their home to me and made me feel like a member of their family. They showed me wonderful hospitality in exchange for my help with teaching their children English. They were generous to me. The grandmother darned my socks and made me my own personal napkin holder for my place at the table. They made sure I always had money to buy mouth-watering French pastries. So, you can imagine, how I felt about the kindness of strangers, who soon became family.
I wanted to give back ~ to reward the kindness I had received. So, when I saw an announcement in my church's newsletter asking for host families for students from Saint Denis, I gladly accepted the opportunity. We first hosted two boys, 16 and 17 years of age, and then I helped to coordinate the exchange. My husband, Dan, and I enjoyed the experience very much and continued to host and recruit host families from our small city until we relocated. I have to say it is the kind spirit and openness of the people, the eagerness of learning about new places and people, and the hope of enduring friendship that makes me want to continue the experience.
Being a host family for this school's students was uplifting. The students were bright, inquisitive, excited, shy, and kind. Anyone who has ever hosted a foreign student knows that the experience brings cultural diversity and exposure to any family willing to open its doors to a young person.
Traveling to new places, such as with a foreign exchange program, has a way of fulfilling your senses. The sights of new places and the smells and tastes of new foods you are anxious to experience ~ hearing the interesting new sounds of a foreign language and listening to and feeling the excitement of a journey.
Saint Denis International School accepts students from pre-k through high school. The program that my exchange students were part of is a special transitional one for high school students who have had difficulties completing their high school classes through a regular high school curriculum and are at-risk students who might not graduate otherwise. These students spend four years at Saint Denis instead of the requisite three years. In their final year, and upon satisfactory completion of all of the necessary courses, the students are rewarded by being given the chance to visit the United States for three weeks. During the final year leading up to the trip to the US, the students work together practicing for a musical and they perform it for the schools and communities they visit during their stay. The musicals are in French and English. A couple of performances that I and other host families had the pleasure of attending were of West Side Story and Sister Act.
By being open to the possibility of hosting foreign exchange students, our community of Avondale Estates came together. The first year host families were fragmented geographically, some families were from local churches, some from the local high schools. Then as the residents of Avondale Estates, Georgia, became involved they opened their hearts and homes to the exchange students of Saint Denis. Now the students are hosted by the community of Avondale Estates. I have moved to another state and find it remarkable that the residents continue to treasure the tradition. In April of 2011 the students will again be hosted by the good citizens of Avondale Estates ~ it will be their 10th year.
Through coordinating and hosting the foreign exchange program, I have been able to give back and feel enriched by the human connection and friends whom I have come to know in meeting the high school students and teachers of Saint Denis. The teachers whom I have had the pleasure of knowing from Saint Denis are more than instructors; they are committed and dedicated to their students. They are exceptional leaders and mentors, and they accept this assignment with grace and humility. I have also learned that the school offers many French language programs for students of all ages.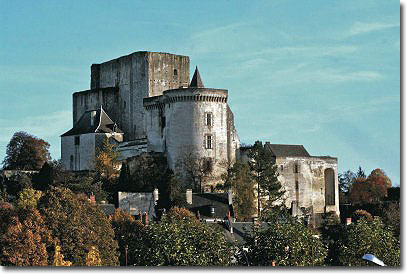 The town of Loches, where the school is located, is one of the most picturesque in central France. A medieval town that lies at the foot of the rocky eminence upon which stands the Château de Loches, the castle of the Anjou family, and consisting of the old collegiate church of St. Ours, the royal lodge and the donjon.




You will find more information on St. Denis international School at their web site
http://www.saint-denis.net/sommaireeng.php3
For more information on the community of Avondale Estates, GA
http://avondaleestates.org/



---