CRUISING THE CANAL LATÉRAL À LA LOIRE continued . . .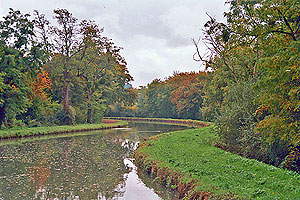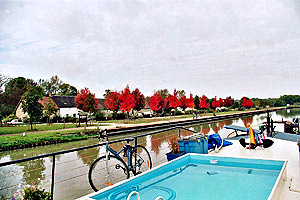 The idyllic Canal Latéral à la Loire A plunge pool and bicycle on the Alphonsia Maria
Back on board, we were departing and heading for the lock. What fun to be on the péniche enjoying the entire experience! People gathered along the sides to watch ~ just as we had sixteen years earlier! The boat went into the lock, and we stayed above on deck to watch as the lock keeper opened the gates regulating the water level so we could ascend to the other side as Franck and Carlo maneuvered the boat to keep it only inches free from the walls. We learned that the standard lock size in France was established in 1879 (the Stage 2 modernization to 300-ton canal standards) at the initiative of Charles de Freycinet who was the Minister of Public Works. This established specific sizes for new canals and the upgrading of existing ones to minimum lock dimensions of 38.50 by 5.20 meters, for a navigable draught of 1.80 meters and bridge clearance of 3.70 meters. France has the longest waterway network in Europe outside of Russia with a total of 8800 kilometers of navigable rivers and canals. The Canal Latéral à la Loire from Digoin to Briare totals 196 kilometers and has some 37 locks in all.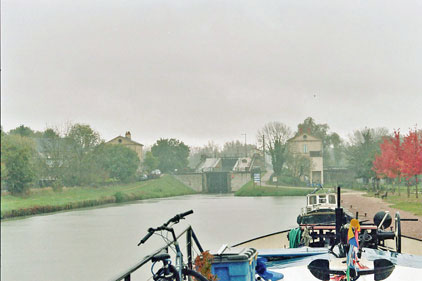 The next few hours were spent silently gliding along the canal, passing by villages and homes and peaceful groves of trees, waving to many fishermen who had set up their lines along the canal ~ some with tiny shelters covering their folding chairs should the weather worsen. Soon we would pass through a smaller lock before arriving at our destination for the night.
The sky began to clear in late afternoon, and we were promised by our captain that tomorrow's weather would be excellent. As we relaxed on deck, cameras in hand, we appreciated even more the serenity of the canal. It became apparent why people want to live on barges or small houseboats on the canals of France. It's a unique and calm lifestyle where one knows the villagers, the lock keepers, and the others sharing the experience. It also became apparent that our visit to France this year would not have been the same without a few days on the Alphonsia Maria.
The changing weather had brought us some exquisite photo opportunities, two of which are just below. It was not quite sunset, but the light, like in many places of France, was unbelievable. When the sky is blue, it is a blue like you cannot find anywhere else, and we were mesmerized by both the reflections in the canal and the sky above. Artists can't help but love France as so many of such landscapes are begging to be painted!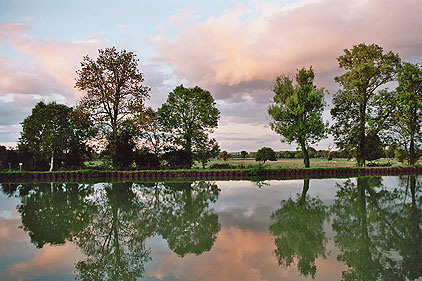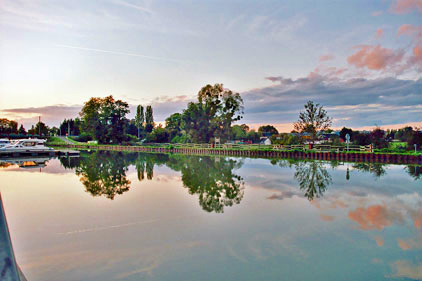 Reflections along the Canal Latéral à la Loire The port of Plagny where we docked for the night
The péniche docked between 4:30 and 5:00 PM for the night at the lovely little port village of Plagny on the Canal south of Nevers. We bid good-bye to Claude and Adrienne ~ his daughter was there to take them home ~ and decided to take a walk in the town before dinner. The side of the canal where we were tied up is primarily a residential area with little to see other than people's pretty gardens. It was quiet and pleasant, much like our weekend had been thus far. The walk was invigorating and gave us an appetite for the marvelous dinner we were about to have on board.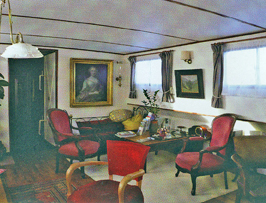 We relaxed in the salon with a glass of wine, thinking about the very relaxing day we had on the Alphonsia Maria. Dinner was extremely pleasant; Franck and Carlo joined us for another gourmet meal that was prepared in their tiny galley kitchen, a feat we found incredible. We began with a delicious tomato soup laced with cream, and it was followed by perfectly cooked filet mignon in a Saint Marcellin* cheese sauce, creamed broccoli and tiny roasted potatoes. We shared a fine Côtes de Bourg Bordeaux and interesting conversation followed by a lovely dessert. This last evening on board ended perfectly.
Our final day on board began with Franck, our captain, turning the péniche around to return us to Marseilles-les-Aubigny and our car. This in itself is a difficult process as the péniche must be turned in the widest part of a fairly narrow canal...after all, the Alphonsia Maria is 110 feet long. Carlo was a constant help to Franck both with this procedure and while we were in the locks.
The weather was gorgeous, just as promised! First, hot showers were in order, and we were pleasantly surprised at the abundance of hot water. No one should expect that the péniche lacks any of the modern conveniences and comforts of home! We had another great breakfast, and then the Alphonsia Maria glided through the canal waters on what was to become a perfect day.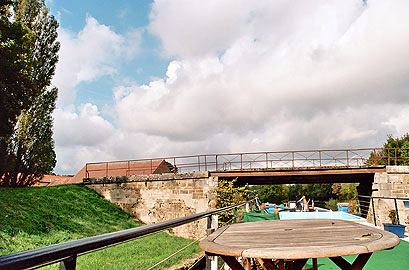 On deck . . . low bridge approaching! Duck!

Along the canal route are many small bridges for cars passing by above. These were often rather low, so that if we were standing on the deck, Franck or Carlo would advise us to duck our heads down a bit or sit on a deck chair as the Alphonsia Maria passed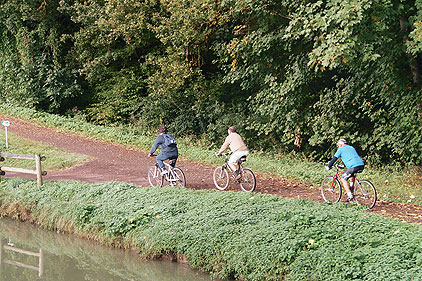 beneath them. ~ and we often saw cyclists riding along the old towpaths originally provided for animal haulage. Power craft terminated this need in 1969, but today the towpaths remain very useful; in addition to providing ways for some local haulage by mechanical tractor, they provide valuable access to the canals for inspection and maintenance ~ and, of course, for those on bicycles who can ride for many, many miles along these beautiful canals uninterrupted, not to mention a way for the fishermen to gain access to the canal's edge.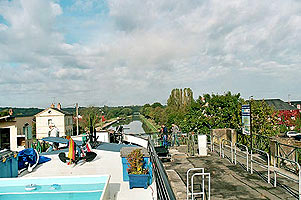 Soon it was time to repeat in reverse our passing through the lock and canal-bridge at Le Guétin. This was something we will not soon forget ~ watching as the péniche, only inches from the lock walls on either side, was lowered in two phases to the other side under the D976. We watched as water left the lock, just as we had watched the day before as it rushed into the lock to raise us to the next level. Once again, people had gathered on the pedestrian way next to the lock to watch...a family with two children and their dog were especially interested and walked along as we entered the lock.
We clung to our last hour on the Alphonsia Maria, not wanting this lovely experience to come to an end. Those final twenty kilometers from the lock to the péniche's home port of Marseilles-Les-Aubigny were sad. We went to our cabin at the last moments to pack our bags and bring them up to the salon. We sat on deck and watched the Alphonsia Maria come into port, turn around and tie up. It was time to thank both Franck and Carlo for their expertise at handling this craft, their warmth and kindness to us during our stay with them, the fantastic cuisine, and finally for giving us and others this incredible opportunity to spend a few days on one of the delightful canals of France. Merci bien!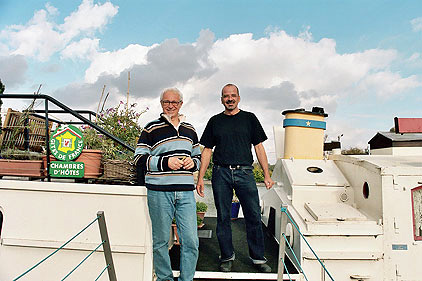 Carlo and Franck bidding us adieu . . .
* Saint-Marcellin - this cheese, from and named for the town in the Rhône Alpes, is runny
at room temperature and, therefore, always comes in a container or crock. There are many
recipes for sauce made from Saint-Marcellin, many served with beef. We have not received
Carlo's recipe yet, but when and if we do, we'll pass it along to you!
[Photo credits, copyright 2009 by Cold Spring Press
All rights reserved. Please mouse over photos for descriptions.]

---
SPONSORING THIS ISSUE

Learn French online!
Five FREE demo videos are available to view now!
Click on above banner to discover Yabla French!
---