PENICHE D'HÔTES ALPHONSIA MARIA:
DUTCH BARGE CRUISE OR B&B ON A FRENCH CANAL
The port of Marseilles les Aubigny on the Canal Latéral à la Loire between Rogny and Nevers in Burgundy is home to a magnificent Dutch barge, the Alphonsia Maria. Built in 1913 and completely renovated in 2000, this 110 foot vessel offers three spacious double cabins with private baths, a refreshing pool, solarium, library, elegant dining room and access to music, a computer, the Internet and games, television with international channels, telephone and a wine cellar.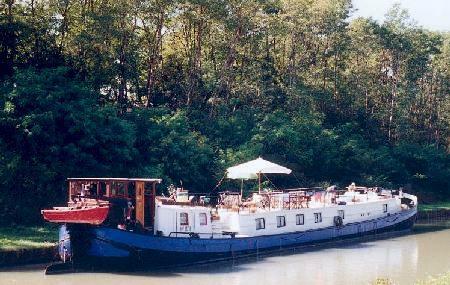 What other temptations await guests of the Alphonsia Maria? The beauty of France itself! The Canal Latéral is a tranquil and inviting waterway -- and whether in port enjoying the Alphonsia as a fully-functioning bed and breakfast accommodation or cruising the canal to see all it has to offer, guests will find their time on board an exceptional experience.
Gourmet cuisine tops the list of on board delights. Chef Carlo Ciacchella offers menus of traditional French food and Italian specialities -- dishes prepared exclusively with fresh seasonal products. Enjoy such exotic selections as Braised red peppers in Bagna Cauda (sauce based on anchovy, raisins and aromatic herbs), Roman Artichokes (roasted with garlic, olive oil and basil), Salmon Coulibiac, St-Jacques scallops with Calvados, Cailles farcies à la provençale (stuffed quail), Guinea fowl with pears, Roast pork with juniper, followed by desserts such as tarte flambée with pears, Charlotte, chocolate croquants, Bavarian cream,or other temptations!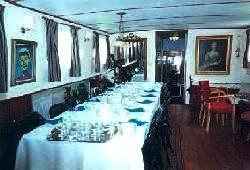 These dishes are only a small sampling of what is offered on the Alphonsia Maria, and your hosts want you to know that they will cater to the tastes and particular dietary needs of their guests. Of course, the appropriate French wines accompany each course to make your dining experience just perfect!
On deck guests will enjoy the beautiful canal itself as well as the villages along the route while having lunch in the fresh country air. On warmer days, a refreshing dip in the pool is a welcome break. Bed and breakfast guests can take part in wine tasting at nearby wineries, visits to the local cities and villages, bicycle riding, concerts, trips to regional markets, games of Pétanque and other activities. The beautiful barge Alphonsia Maria in the town of Marseilles les Aubigny will be your home in France -- comfortable, convenient and relaxing.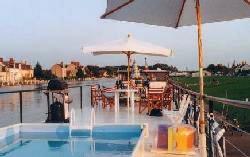 For those interested in crusing the canal, a six-day itinerary begins with a rendezvous in Paris and a short trip by bus to the barge. A visit to Nevers is a well-remembered experience, and the first day concludes with a candlelit dinner by the pool on board the Alphonsia Maria. Subsequent days take in visits to Apremont, Charité sur Loire, dinner at la Ferme des Barraux (Foie gras specialities), Sancerre and its renowned vineyards for some wine tasting. Of course there will be free time for bicycling, golf, tennis, miniature golf and more.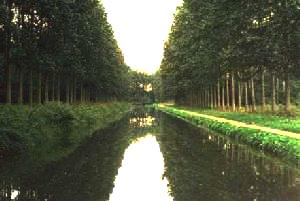 During the fifth day of the cruise guests will experience the Garden of Tisserand, famous for sericiculture (silk worms) and weaving, Châtillon sur Loire with its towers and ancient houses, possible participation in local artistic events, music and harvest festivals, and an evening enjoying a Gala Dinner on board. The sixth day brings guests to the very famous canal bridge of Briare built by Gustave Eiffel followed later by departure for Rogny -- 14 locks in 14 miles -- and the 7 locks of Henri IV, then on to Gien, a city famous for its porcellain where you will see the Castle at Gien and more. Guests depart the next morning for Paris.
Currently, prices for bed and breakfast accommodations are € 58 for two (double occupancy) breakfast included; single is € 48 breakfast included. Lunch or dinner on board (table d'hôtes) with reservation is € 19 - 29 per person for a gourmet meal. The sun deck, refreshing pool and living room are at the disposal of guests. There is a 10% reduction in rates for children under the age of 10 for bed and breakfast accommodations.
Prestige Cruise prices are € 2600 to € 2800 per person, with a 20% supplement for a single guest, minimum two persons for one week. Prestige Charters for four to six persons range in cost from € 5,600 to € 12,990 and are either full- or half-board. To see the price chart and details of what is included, please click here. A La Carte cruises are also possible with full- or half-board. Please contact us for more details. Animals are not accepted on board.
To make reservations or inquiries, please contact us at FRANCE On Your Own at info@franceonyourown.com and type "peniche" in the subject line. Let us know what dates you have in mind, and we will reply immediately with availability. We and your experienced crew of three aboard the Alphonsia Maria are looking forward to hearing from you!